BE Energy Customers Are Now with Flogas

---
BE Energy provided electricity to homes, businesses, and farms, and launched electricity-only services in the Republic of Ireland in 2017. They were part of Budget Energy (Northern Ireland, established in 2011), who were awarded the Which? Best Value and Customer Service award for two consecutive years.
BE Energy has ceased trading All customers were transferred to Flogas on December 4th, 2020. Any BE Energy customers need to contact Flogas for further information. If you're a Flogas customers transfered from BE Energy and haven't switched before, you can call one our energy experts here at Selectra to find out the best deal for you!

Call Our Energy Experts on (01) 913 1771!
When BE Energy first entered the market, they were widely reported to have the lowest standard unit rates and standing charges and also had a first-month free offer, providing them with a strong position from which to gain new customers and build market share
BE Energy joined the Irish energy market, after Panda Power (which joined in 2015), with a gap of two years since then, before Just Energy and Iberdrola Ireland began operations in Ireland.
It was hoped that the arrival of yet another supplier would stimulate the market a bit, but no significant downward pricing was observed. Healthy energy market competition is always to the benefit of customers.
BE Energy was acquired by Flogas in May 2020 and currently continues to operate separately under the new company name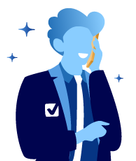 Is your energy bill too expensive? We can find you a better deal!
Call today and save hundreds on your energy bills just by switching suppliers.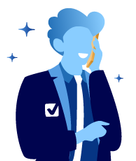 Save money on your energy bills with Selectra.
Selectra is currently closed. You can leave your phone number and get a free callback.
Be Energy Ireland Customer? What to do next
If you were one of the few thousand Be Energy customers, the following FAQ section will help answer any question you may have about what you need to do next.
Be Energy Frequently Asked Questions
1) I'm a Be Energy customer - will I continue to receive energy?
Yes! Your energy supply was taken over by Flogas who has been providing your home with its energy since Be Energy stopped trading on December 4th, 2020.
They will continue to do so until you request a change of supplier.
2) Will my energy tariff change?
Flogas had guaranteed the same tariffs at the time of the takeover. However, as most energy plans in Ireland are 12 months long. Likely, you have since been moved to a standard tariff if you have not renewed your energy plans.
It is highly recommended that you either compare current energy prices or request that Flogas place you on a different tariff. Standard tariffs are the most expensive rates a supplier can charge. Unless you are still under a plan, you will not have any exit fees to pay when you change providers.
3) How can I get contact my new supplier?
Flogas should have received all of Be Energy's customer details information at the time of the company's acquisition. They would have attempted to get in touch with you to let you know about the changes.
Some past Be Energy customers may never have been contacted. Either because the contact information on file was incorrect, lost, or many other possibilities that could have gone wrong.
If this is your case, you will need to contact Flogas directly to find out the status of your account.
4) I've already changed supplier. Will the switch still go ahead?
Yes, if you had already started changing suppliers when Be Energy closed its doors, the switch should still have gone through. Any Direct Debit you had with Be Energy would have automatically been canceled. We still advise you to verify with your bank just to be sure.
5) I had credit on my Be Energy account. Will this be refunded?
All customer credit would have been honored by the new supplier.
6) I was in debt with Be Energy. Am I still required to pay it?
Yes, you are still responsible for any outstanding Be Energy debts. Flogas can advise you if they have taken on your debt or if you have to work out a payment plan with a collector.
7) I don't want to change to Flogas. Is it possible for me to switch to a different supplier?
Yes, in Ireland you are free to change to another provider without incurring any exit fees or penalties. At Selectra, we specialise in energy price comparison and assist people in switching providers quickly and easily. To learn more about our current best offers, call (0)1 913 1771 or request a free callback now.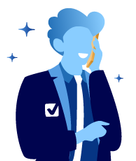 Don't sign up before checking Selectra's supplier review.
Switching to the wrong supplier could cost you. Call and get the best deal for your home.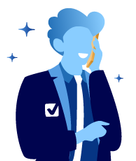 Save money on your energy bills with Selectra.
Selectra is currently closed. You can leave your phone number and get a free callback.
Be Energy Ireland Rates & Tariffs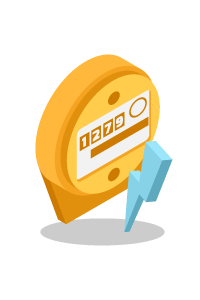 BE Energy had a barebones system whereby you submit your meter readings via their mobile application and only pay for the amount you used.
BE Energy had three tariffs available (the famous first-month free offer is no longer available):
The Standard Tariff
The Budget Bonus Tariff
The Energy Advantage Tariff
It goes without saying that you should never accept a standard tariff without any discount as this is the most expensive tariff with any provider, and is the one you will default to should you fail to switch every 12 months or renegotiate a discount with your supplier.
The Budget Bonus tariff came with a 28% discount on the standard electricity unit rate, while the Energy Advantage tariff came with €200 welcome credit (but the same unit rates as the standard tariff).
Like most Irish energy suppliers, BE Energy issued bi-monthly bills. They reviewed your usage after your first six months, and annually thereafter, in order to adjust your Direct Debit amount upwards or downwards, keeping it in line with your actual usage.
Exit FeeBE Energy had a sizeable exit fee of €100 - double that of most Irish energy suppliers. So if you were considering switching to them, the exit fee had to be kept in mind to avoid any nasty future surprises.
We had analysed their last standard tariffs in 2020 below, and had calculated the yearly spend based on the national average of 4200kWh per year, as well as how much your bill would have been with the different tariffs applied.
However, this could have differed greatly based on your actual consumption.
Electricity Pricing
Tariff
Unit Price
Day Unit Price
Night Unit Price
Standing Charge
PSO
Standard Tariff
Energy Advantage
Budget Bonus
Urban 24
17.99c
 
 
€175.93
€38.68

€970.19

€770.19 (incl. €200 credit)
€758.51
Rural 24
17.99c
 
 

€210 Standard

€220 EA/BB

€38.68
€1012.96
€814.26 (incl. €200 credit)
€802.58
Urban Night
 
20.10c
9.75c
€255.38
€38.68
€929.63
€720.93 (incl. €200 credit)
€745.25
Rural Night
 
20.10c
9.75c

€290 Standard

€300 EA/BB

€38.68
€964.26
€765.55 (incl. €200 credit)
€789.87
Last Updated: June 2020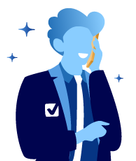 Selectra can help you save money on your energy bills.
Call our energy advisers today and get a better energy offer for your home.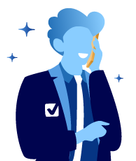 Save money on your energy bills with Selectra.
Selectra is currently closed. You can leave your phone number and get a free callback.
As you can see, the Budget Bonus tariff appeared to be the cheapest BE Energy tariff for 24-hour meters while the Energy Advantage tariff worked out at a little less for Day/Night (Nightsaver) meters.
However, you needed to take a look at your energy usage to see which tariff would have worked out cheaper for you. For example, if your usage falls under 4200kWh a year, then the Energy Advantage tariff would have been cheaper. Likewise if your usage is over 4200kWh a year, then the Budget Bonus tariff would have worked out cheaper for you.
Keep in mind that the most effective way to save money on your energy bills is by switching energy provider every 12 months. Otherwise, you could default to the standard tariff. In the case of BE Energy, defaulting from the Budget Bonus tariff (urban) to the standard one could have cost you upwards of €211 a year extra on your BE Energy electricity bill.
To show you how BE Energy electricity rates compared to other suppliers, we've listed the cheapest electricity prices in Ireland per supplier in the table below.
Cheapest Electricity Offer per Supplier

| Supplier | Best Offer | Price per Year |
| --- | --- | --- |
| Electric Ireland | 5.5% or 8.5% on dual fuel | €1,923.19 |
| Energia | 10% on all tarriffs | €1,970.51 |
| Ecopower | No Discount | €1,977.98 |
| Bord Gáis | 10% on all tarriffs | €2,005.58 |
| Flogas | 22% for Green Gas Future | €2,089.08 |
| Community Power | No Discount | €2,138.23 |
| PrepayPower | No Discount | €2,148.12 |
| SSE Airtricity | 15% on Electricity | €2,169.93 |
| Pinergy | No Discount | €2,307.51 |
| Waterpower | No Discount | €3,667.50 |
*Figures are for illustrative purposes only. Calculations based on average consumption figures for an urban home with a 24-hour standard meter unless specified. All discounts and cashback have been applied. PSO Levy Rebate of €97.25 has also been discounted.
Last updated: 20/04/2023.
BE Energy reviews
Nearly three years after the BE Energy's launch in the Republic of Ireland and, as of June 2020, there were barely any reviews available for BE Energy Ireland. This could have been due to the company never being relatively set up, or was slow to take off in the Republic.
Its parent company Budget Energy is a different story and currently holds the following satisfaction ratings in Northern Ireland:
2.1/5 on Trustpilot
2.2/5 on Google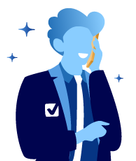 Don't know which supplier to choose? Selectra can help you decide!
Call and let one of our energy experts help you pick the best one for your home.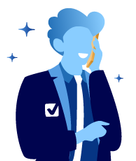 Save money on your energy bills with Selectra.
Selectra is currently closed. You can leave your phone number and get a free callback.
Be Energy Ireland Login
BE Energy had an uncomplicated online login portal for which you would have needed the email address you signed up with, and the PIN they provided you with. If you had forgotten your PIN, you would have needed to phone Be Energy, as for security reasons it could not be changed online.
BE Energy app
There were no ratings left for the BE Energy App on the Apple Store, and just three for the Google play version. One review was very positive but didn't relate to the actual Be Energy app.
"Recently got signed up to this great service by ethan from there(sic) sales team, fantastic to deal with he switched over everything in 5 minutes! Great service all round!"
The other reviews were less generous, saying customers could not even manage to log in.
You would have needed to already be a BE Energy customer to use the app, and you could have used it to pay any amount between €5 to €250 towards your balance. It would have also given you advice on how to read the different types of meters, and how you could have submitted your readings with one tap.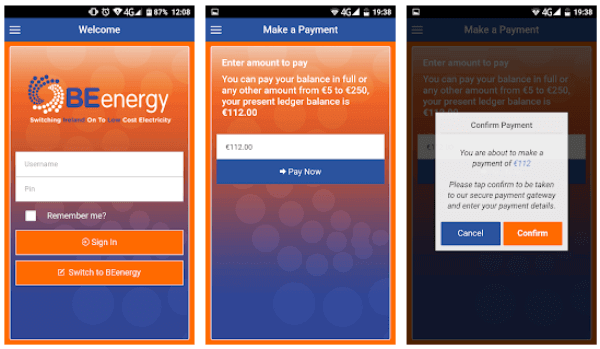 It also had family sharing enabled in the Apple version. The link on their website to the Apple store app didn't even load properly, but we had rummaged around and had found the correct link for you.
How you would have signed up for a BE Energy Tariff
In order to sign up for a BE Energy tariff, you would have had to contact customer services via telephone, or signed up online. There was no need to have contacted your previous provider in order to cancel your contract with them, as BE Energy would have taken care of everything.
You simply had to head over to BE Energy's switching tool, and select the tariff you wished to have contracted from the Tariff Type dropdown menu. You could have chosen between the standard tariff, 2 Yr Fixed deal tariff, Budget Bonus tariff, or the BE Energy Advantage tariff. You would have also had to specify whether you needed an urban, rural, urban Nightsaver or rural Nightsaver tariff.
Once you would have had selected a tariff, the tariff breakdown would have appeared on the righthand side of your screen, detailing all the charges including and excluding VAT. You would have also seen the estimated annual bill (EAB), contract duration, minimum monthly Direct Debit, and the exit fee. The exit fee is what you would have had to pay BE Energy if you left your contract early.
After clicking next, you would have been taken to the following page where you would have needed to enter all your personal details which included:
Title
First name
Last name
Date of birth
Email
Phone number
You would have also needed to confirm your contact details and tick the boxes indicating if you were opening a joint account, had special service needs, or required medical equipment.
Click the next button and you would have been taken to payment information. It was that simple.
Be Energy Ireland Fuel Mix
From looking at the graph below, and comparing BE Energy's fuel mix with the CRU's fuel mix disclosure report of 2018, we saw how BE Energy stacked up against the all-island averages.
BE Energy's use of coal for energy generation had dropped substantially from 2017's numbers, going from 24.8% to 17.9%. As coal is neither a clean energy source nor a renewable one, we would have liked to see that figure come down even further. The 23.9% for renewably sourced energy could have also been improved upon when compared to the average of 48.9% for all-Ireland.
However, in this case, it's important to note that the average figures for renewable energy generation were skewed by several providers who supplied 100% renewable energy. For residential customers, these suppliers were Energia, Just Energy (now defunct), Iberdrola Ireland, Panda Power, and SSE Airtricity.
BE Energy did have a win with their peat usage. Peat is considered a slow renewable resource, and BE Energy's 12.1% compared favourably with the all-Ireland average of 4.9%.
BE Energy Contact Details
The BE Energy contact options were via telephone, in writing, or by using their online contact form. Their hours were extensive for their BE Energy contact freephone number, and letters sent to them would have been received directly by their Dublin head office, instead of a PO Box as with some other providers.
The table below broke down the past BE Energy contact phone numbers.
BE Energy contact numbers

| Department | Phone number | Opening hours |
| --- | --- | --- |
| Customer service | 1800 817 383 | Monday to Sunday: 8am-8pm |
| Electrical emergency | 1850 372 999 | 24/7 |
| Gas emergency | 1850 205 050 | 24/7 |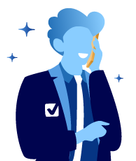 Talk to a real person! Speak to one of our energy advisers for free!
Our free service will put you through to a real person without the wait.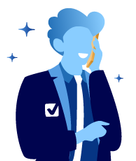 Save money on your energy bills with Selectra.
Selectra is currently closed. You can leave your phone number and get a free callback.
Customers could reach out to BE Energy via Facebook or Twitter (@BEenergyIreland), as well as write a letter addressed to the following: BE Energy, Unit E Site 1, Swords Business Park, Swords, Co. Dublin.
The services and products mentioned on this website may only represent a small selection of the options available to you. Selectra encourages you to carry out your own research and seek advice if necessary before making any decisions. We may receive commission from selected partner providers on sales of some products and/or services mentioned within this website. Our website is free to use, and the commission we receive does not affect our opinion or the information we provide.