BEenergy: 2019 Online Login, App, Rates, Reviews & Contact
BEenergy provide electricity to homes, businesses, and farms, and launched in the Republic of Ireland in 2017. They are part of Budget Energy (Northern Ireland, established in 2011), who were awarded the Which? Best Value and Customer Service award for two consecutive years.
No reports on the market share they have gained since then are currently available. However when they first entered the market, they were widely reported to have the lowest standard unit rates and standing charges and also had a first month free offer, providing them with a strong position from which to gain new customers and build market share.
BEenergy is the most recent supplier to join the Irish energy market, after Panda Power (which joined in 2015), with a gap of two years since then, so it can only be hoped that their arrival will stimulate the market a bit. Healthy energy market competition is always to the benefit of customers.
---
Online Login
BEenergy have an uncomplicated online login portal for which you'll need the email address you signed up with, and the PIN they provided you with. If you forget your PIN, you'll need to phone them, as for security reasons it can't be changed online.
---
App
There are no ratings available yet for the BEenergy Ireland App, which is available for both Android and iOS systems.
You need to already be a BEenergy customer to use it, and you can use it to pay any amount between €5 to €250 towards your current balance. It'll also give you advice on how to read the different types of meters, and you can submit your readings with one tap.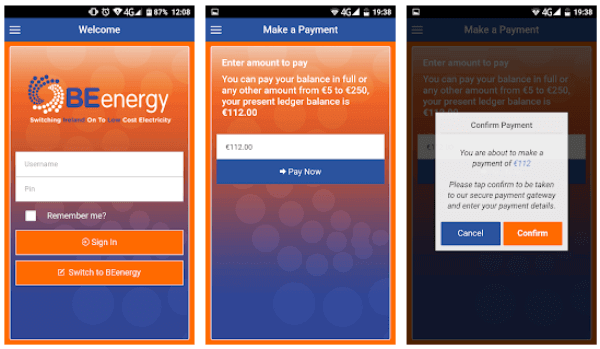 It also has family sharing enabled in the Apple version. The link on their website to the Apple store app doesn't load properly, but we rummaged around and found the correct link.
---
Rates & Tariffs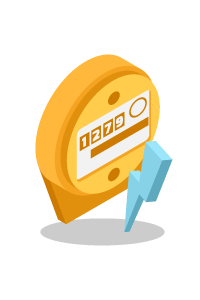 BEenergy advertise that they are Ireland's cheapest provider for home urban and rural 24 hour tariffs. They have a barebones system whereby you submit your meter readings via their mobile application, and only pay for the amount you have used.
They have three tariffs available; Freedom, a 24-hour tariff, and a Nightsaver tariff. With the first month free, you'd be forgiven for thinking that they would be pretty cheap, but as they don't offer any further discounts, that's not how it turns out. However given that the majority of Irish customers are not great at "re-switching" (switching again 12 months after the first switch) and default to standard tariffs (nearly 80% of customers!), BEenergy could be a good idea for these "non-switchers".
Like most Irish energy suppliers, they issue bi-monthly bills. They review your usage after your first six months, and annually thereafter, in order to adjust your Direct Debit amount upwards or downwards, keeping it in line with your actual usage.
Exit FeeBE Energy have a sizeable exit fee of €100 - double that of most Irish energy suppliers. So if you're considering switching to them, keep the exit fee in mind to avoid any nasty future surprises.
We've analysed their tariffs (current as of September 2018) below, and have calculated the yearly spend based on the national average of 4200kWh per year, however this could differ greatly based on your actual consumption.
Electricity Pricing

| Tariff | Unit Price | Day Unit Price | Night Unit Price | Standing Charge | PSO | Yearly Average | Cheapest Offer? | Yearly Average with Discount |
| --- | --- | --- | --- | --- | --- | --- | --- | --- |
| Urban 24 | 17.01c | | | €145.28 | €47.40 | €907.10 | First month free | €835.32 |
| Rural 24 | 17.01c | | | €183.87 | €47.40 | €945.69 | First month free | €873.91 |
| Urban Night | | 18.44c | 9.36c | €195.22 | €47.40 | €826.42 | First month free | €767.76 |
| Rural Night | | 18.44c | 9.36c | €244.03 | €47.40 | €875.23 | €8.5% Dual Fuel & €200 Online Discount | €816.57 |
Last Updated: December 2018
---
Reviews
As of August 2018 there are no reviews available for BEenergy, due to the company being recently set up. Its parent company Budget Energy is an entirely different story and currently holds the following satisfaction ratings:
Budget Energy's recent ratings have indicated some customer service issues, which one would hope would not be repeated with BEenergy.
---
Fuel Mix
From looking at the graph below, and comparing BE Energy's fuel mix with the CRU's fuel mix disclosure report (2017), we can see how BE Energy stacks up against the all-island averages.
BE Energy's use of coal for energy generation is much higher than average, at 24.8% when compared with 9.8% for the entire island of Ireland. As coal is neither a clean energy source, nor a renewable one, we'd like to see that figure come down. The 23.3% for renewably sourced energy could also be improved upon, when compared to the average of 44.5% for all-Ireland.
However in this case it's important to note that the average figure for renewable energy generation is skewed by several providers who supply 100% renewable energy. For residential customers, these suppliers would be Energia, Just Energy, Panda Power, and SSE Airtricity.
BE Energy do have a win with their peat usage. Peat is considered a slowly renewable resource, and BE Energy's 12.3% compares favourably with the all-ireland average of 4.9%.
---
Contact
BE energy can be contacted via telephone, in writing, or by using their online contact form. Their hours are extensive for their freephone contact number, and letters sent to them will be received directly by their Dublin head office, instead of a PO Box as with some other providers.

BE Energy Contact Number
Please check with your provider if you don't know how much a call will cost.
1800 817 383
*Monday to Sunday: 8am-8pm
Contact form