Panda Power: 2019 Reviews, Rates, Login & Contact
Panda Power is part of the successful recycling company Panda, and was launched in Ireland in 2015, its major selling point being that it is a green electricity supplier and sources energy from renewables such as wind, solar and wave energy.
Initially Panda Power was an electricity-only provider, and in 2018 entered the gas market. Their offer is quite novel and interesting in that it combines waste, gas and electricity services, the first offer of its kind in Ireland. The Panda Power website makes the bold claim that they can save you up to €330 in one year (saving based on standard rates).
By 2017 year-end the CRU (Commission for Regulation of Utilities) put Panda Power's electricity market share at 1.5%, with no reports available yet on their gas market share to date. Part of the Beauparc Utilities Group, Panda Power put their customer base at 30,000 and are hoping to reach 70,000 in 2019.
---
Reviews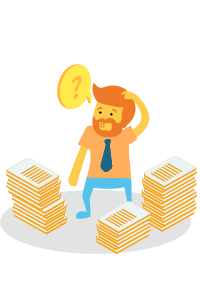 Panda Power's customers have expressed dissatisfaction with their handling of Direct Debit billing, as well as being unimpressed with their customer service. This appears to be a common issue for newer providers, whereas more established companies have learned, for the most part, that correct billing and good customer service are key components of success.
Those customers who reported being satisfied with Panda Power said that they were easy to deal with and that they were also happy with their competitive renewable energy pricing. It also seems really handy to be able to deal with a single supplier for all your energy, refuse, and recycling needs. The sign-up process was also commented on as being incredibly quick.
---
Rates & Tariffs
Switching to Panda Power is relatively easy and can be done online or by calling. You'll need to have your MPRN number for electricity and/or your GPRN number for gas, your bank details (if you're going to set up a Direct Debit), and your current meter reading.
What are MPRN and GPRN numbers? An MPRN number is a Meter Point Reference Number and a GPRN is a Gas Point Reference Number. You can find them on any previous bills, or by calling ESB Networks for your MPRN, and Gas Networks Ireland for your GPRN.
In addition to offering dual fuel, electricity only, and gas only plans, as their parent company Panda deals with recycling, if you're already with them or with Greenstar for your waste disposal, you'll also receive a €50 waste discount for signing up to any dual fuel or electricity plans (not gas-only sign ups unfortunately!).
Existing Panda Power energy customers who'd like to contract additional fuels or services should contact Panda Power to discuss adding fuels on a new separate plan or switching to a dual fuel tariff, whichever works out cheapest.
Panda Power doesn't notify you when your contract is up, at which point you could automatically be switched to the standard tariff and end up paying more, so do have a look round at other available offers. Make sure to call Panda Power before your contract is up to negotiate a discounted renewal contract, and then compare their offer to other providers' packages.
All Panda Power contracts have a 12 month duration and bills can be paid either online, by Direct Debit, or at any Postpoint. Partial bill payment is also possible, to help you budget more easily.
Electricity and Gas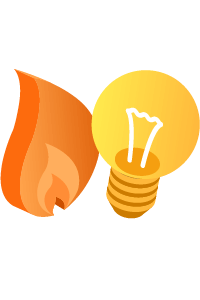 Panda Power have two options for gas and electricity consumers, a 22% discount bundle, or a cashback bundle. The 22% discount bundle is discounted from the standard rates for each fuel and doesn't include other government levies and standing charges.
The cashback bundle includes a €200 "welcome" credit and 10% off standard unit rates. The discount bundle would be a better option for high energy consumers and the cashback bundle for lower energy consumers, but in any case we'd suggest whipping out your calculator and seeing which offer would give you the best bang for your buck.
Gas Only
Supplying gas is a new addition to the Panda Power portfolio, from March 2018, and there is just one gas-only plan available with a simple 10% discount off the standard unit rate.
Exit Fees
Panda Power charge a €50 exit fee per fuel if you wish to cancel your contract after the 14-day cooling off period, which is in line with what other Irish energy providers charge.
PAYG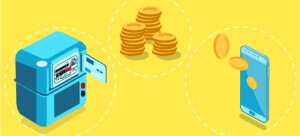 Similar to other smaller energy suppliers, Panda Power do not provide PAYG facilities to the general public except in genuine cases of financial hardship, and for customers with energy payment arrears.
PAYG is sometimes unsuitable for Vulnerable and Critical Care customers as it violates government mandated protection for consumers in these categories (such as energy suppliers being unable to disconnect them during the harsh winter months). If you think you might qualify for, or need, a PAYG meter, give Panda Power a ring and check.
Rates breakdown
At Selectra we've done the number crunching for you, and below you'll find Panda Power's standard rates. We found the cheapest tariff is generally the dual fuel cashback bundle. While the 22% discount bundle sounds great, unless you're a very heavy energy user (over 8200kWh per year for example), the cashback bundle still works out cheaper.
Electricity Pricing

| Tariff | Unit Price | Day Unit Price | Night Unit Price | Standing Charge | PSO | Yearly Average | Cheapest Offer? | Yearly Average with Discount |
| --- | --- | --- | --- | --- | --- | --- | --- | --- |
| Urban 24hr | 22.41 | | | €175.28 | €47.34 | €1163.84 | €200 dual cashback & 10% off unit rates | €869.72 |
| Rural 24hr | 22.41c | | | €214.12 | €47.34 | €1202.68 | €200 dual cashback & 10% off unit rates | €908.56 |
| Urban Day/Night | | 22.67c | 11.83c | €213.13 | €47.34 | €984.97 | €200 dual cashback & 10% off unit rates | €647.50 |
| Rural Day/Night | | 22.67 | 11.83c | €277.21 | €47.34 | €1049.05 | €200 dual cashback & 10% off unit rates | €711.58 |
Gas Pricing

| Gas | Panda Power |
| --- | --- |
| Unit Rate | 6.78c |
| Standing Charge | €103.40 |
| Carbon Tax kWh | 0.42c |
| PAYG Service Charge | |
| Yearly Average Bill | €895.40 |
| Best Discount | €200 dual cashback & 10% off unit rates |
| Discounted Yearly Bill | €820.82 |
Last Updated: January 2019
---
Login
Panda Power's online offering, My Panda Power, is a basic and straightforward portal where you can pay your bill or submit meter readings. You can also submit meter readings and pay bills without registering, which is a great option for when you're in a rush.
There is currently no App available for Panda Power but we hope they add one in the future. Energy apps are much more comfortable for mobile phone users, letting them manage their account and submit meter readings on the go.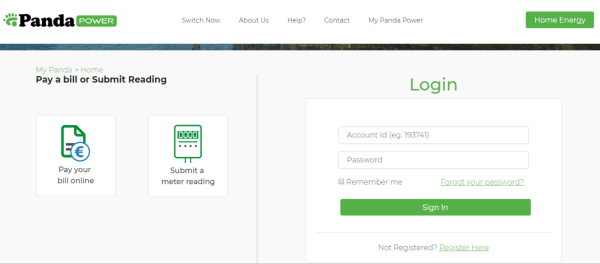 ---
Fuel Mix
Panda Power provide a 100% renewably sourced electricity fuel mix, one of only four energy providers in Ireland to do so. The other 100% renewable energy providers are Go Power, Just Energy Ltd, and Energia. Go Power exclusively supplies industrial and commercial customers.
The most recent information available on the fuel mix used by Panda Power is from 2017 and we've provided it in the chart you can see below.
Panda Power are part of the Beauparc Utility Group, which deal in renewable energy, waste management and recycling. An interesting tidbit about Beauparc is that they also own Bioverda, a company which generates electricity through extracting methane gas at landfills. Other sources for Panda Power's renewable energy are wind, solar, biogas, and wave energy.
---
Contact
Panda Power's sales and customer service teams can be contacted in whichever way is more convenient for you. You can get in touch with them by telephone, email or by post.

Panda Power Contact Number
Please check with your provider if you don't know how much a call will cost.
1890 686 868
*Monday to Friday: 9am-5.30pm
Send a letter to...
Panda Power, Ballymount Road Upper, Ballymount, Dublin 24.
Send an email to...
switch@pandapower.ie
customercare@pandapower.ie
Social Media