How To Find Your MRPN Without a Bill

An MPRN number is a number you may be asked for when you are trying to switch electricity suppliers. Knowing your MPRN is not something you'll need all the time, but it makes it easier to have it to hand if you need it. So what exactly is your MRPN number, why do we need it, and where can you find it? Read our comprehensive MPRN number guide to find out more!
---
Don't Miss an Opportunity To Save! On 27 September, the Irish government announced a €600 electricity bill discount for all domestic households. This €600 credit will be split into three instalments coming in November 2022, January 2023 and March 2023.

As the energy suppliers are responsible for you receiving your electricity payment, you can still make a switch without having to worry about losing your discount. You can take advantage of the discounts energy suppliers offer when you first sign up. So give our energy advisors a free call here at Selectra to see if you can maximise your savings with a new tariff + the electricity discount!

Call Our Energy Experts on (01) 913 1771!
What Is an MPRN Number in Ireland?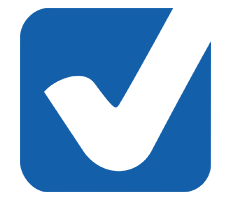 The letters MPRN stand for Meter Point Reference Number. The MPRN is an 11-digit reference number that identifies the location of your house and where it connects to the electricity number, your meter.
MPRN numbers in Ireland are fixed to a certain location, so if you change electricity meters, to a smart meter, for example, the MPRN number won't change. If you move home, you will have a new MPRN number, unique to that property.
Each electricity connection has its own individual MPRN number. The first two digits indicate the system operator (usually 10 in Ireland), the next 8 digits are sequentially generated, and the final digit is a "check" digit (which is used to detect simple errors in a series of digits).
What Do I Need an MPRN Number For?
In Ireland, you'll need to provide your MPRN number to do the following:
Submit Your Meter Reading
You will need to have your MPRN in order to submit a meter reading. You will need to submit the reading to ESB and need to provide your name and contact information.
Contact ESB Networks
Providing your MPRN ensures you get the right information about your property and electricity connection.
Switching Suppliers
You will need your MPRN to switch electricity suppliers. To get the best rate, you must switch electricity suppliers every year.
If you need your MPRN number to switch your electricity supplier, check out the table below to find the best offer per supplier.
*Figures are for illustrative purposes only. Calculations based on average consumption figures for an urban home with a 24-hour standard meter unless specified. All discounts and cashback have been applied. PSO Levy Rebate of €97.25 has also been discounted.
Last updated: 20/04/2023.
How Do I Find My MPRN Number?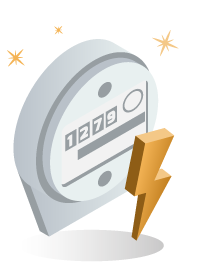 The MPRN number is quite a long number, so the majority of people will not know it by heart. You can find your MPRN number quite easily if you have access to any current or previous bills for the property you are in.
Depending on which supplier you are with, your MPRN number may be located in different sections of the bill, but it is always labelled MPRN number and followed by eleven digits.
How Do I Find My MPRN Number Without a Bill?
If you can't find any previous bills or have recently moved home and don't have access to any bills, there are other ways to find out your MPRN number. Here are other ways for you to find your MPRN number without a bill:
For rental properties, try contacting the landlord.
For purchased properties, try contacting the previous inhabitants.
The builder should provide you the number if the property is newly built or part of an estate.
Contact ESB Networks. ESB will have your MPRN number stored in the MPRN database under your current or new address.
You can contact ESB by calling 021 238 6555 or LoCall 1800 372 757. Representatives are available Monday to Friday from 8:30 a.m. to 6 p.m. and Saturdays from 8:30 a.m. to 1:30 p.m.
If you do not wish to contact ESB Networks by telephone, you can send an email to [email protected]. ESB should respond to your message within two working days.
How To Get an MPRN Number?
If you have a newly built home or apartment, you will need to get an MPRN number for the electricity to work. You will also need to obtain a Maximum Import Capacity (MIC) report for the premises.
The property builder or developer should provide you with these. You can always contact ESB Networks if you are having difficulties getting your electricity connected.
Is My MPRN Number on My Meter?
Unfortunately, your MPRN number is not normally on your meter. Some people may even get confused by looking at their meter and observing that there may be a "meter number" on it.
Is My MPRN the Same as My Meter Number?
The MPRN number refers to the location of a connection to the electricity network, while the meter number usually refers to a serial number of a specific meter. If you call ESB Networks to get your MPRN number, you may be asked to provide the meter serial number (MSN) or the address to help them identify your meter's location.
Note that like your MPRN number, your GPRN number can not be found on the gas meter.
What Is a GPRN Number in Ireland?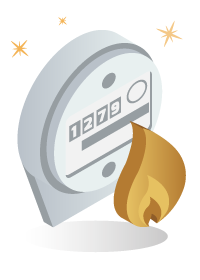 GPRN stands for Gas Point Reference Number. Like how your MPRN number indicates the location of your home's connection to the electricity network, your GPRN number references where you are connected to the national gas network. In Ireland, you'll need your GPRN number for the following:
To switch gas suppliers.
To submit gas meter readings to Gas Networks Ireland.
Your gas supplier needs your GPRN number to ensure they supply gas to the right connection point.
Where Is My Gas GPRN?
Your GPRN number is, unfortunately, not located on the gas meter. To find your GPRN number in Ireland, you can do one of the following things:
Look in the top right corner of your energy bill.
Ask the previous owner if you have purchased the property.
Ask your property manager or the landlord if you are renting the property
Contact Gas Networks Ireland and ask for your GPRN number.
How Do I Find My GPRN Number Without the Bill?
Your GPRN number can be located in the same manner as your MPRN number, keeping in mind that a GPRN number is seven, rather than 11, digits.
If you don't have a bill, you can get your GPRN number by calling Gas Networks Ireland on 1800 464 464, Monday to Friday from 8 am to 8 pm, and Saturdays from 9 am to 5:30 pm. Gas Networks Ireland is responsible for managing natural gas connections across Ireland.
You'll likely need to do this if you've just moved into a new build. If you have difficulties with this toll-free number, you can also reach their customer care team at 066 710 7334.
If you have a gas leak or emergency, this is the company that you call. Its emergency number is 1800 20 50 50.
How To Get a GPRN Number?
If you have a new gas line installed or are moving into a new development, you first need to get a GPRN number in Ireland for the gas to flow into your property. The promoter of the property or builder should provide you with your GPRN number.
Promoters can contact the GPRO at 0818 427 261 for Gas Networks Ireland to carry out the necessary work in installing a new gas line and provide a unique GPRN number for the property. Alternatively, they can be reached via email at [email protected]
Find out more about our offers from energy, broadband and waste collection providers!