Moving Tips: Top 5 Checklists for a Hassle-Free Move

Moving home is said to be one of the most stressful experiences we go through and understandably so! We have simplified the entire process for you by dividing moving house tips into 5 easy-to-follow categories. We look at the full gamut of moving tips below.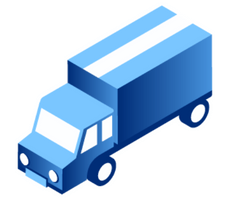 Top Tips When Moving House
With so many details to look after in a short period when moving home, it's easy to forget something or to plan incorrectly and have it turn into a nightmare story.
We have divided our top tips when moving house into five sections and provide you with an easy-to-follow checklist. Feel free to print these lists, tick off the boxes as you go, and enjoy a hassle-free move!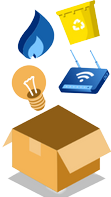 Moving house? Set up all your utilties at once!

Set up your energy, broadband and waste in one hassle-free call!

Ad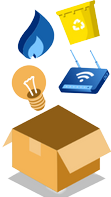 Sorry, we're closed right now!

We're currently closed but please leave us your number and we'll give you a free callback as soon as we'open!

Ad
Checklist #1 - Planning the Move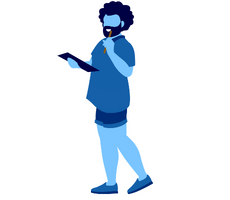 The first thing you need to do when moving is to get organised. For some of us, this may seem like a painstaking process, but one that is crucial for a successful move. Here are our planning tips for moving house:
Pick a Moving Date.

Whether you will be renting the property or have bought the house you are moving into, choosing a moving date is the first item to look after. It will then be easier to set up a moving calendar by working your way backwards.

Ask for Time-Off.

With so many things to look after when you first move into a home, requesting a day or two holidays from work will allow you to calmly unpack and settle in.

Select a Removals Company.

Having your move-in date in hand, receiving a quote from a home removals company will be easier and allow you to shop around. If you are thinking of doing the move yourself, you can reserve an appropriate size vehicle.

Grab Moving Boxes.

Before you even consider packing, start accumulating an assortment of packing boxes. Try to get a variety in size between small, medium, and large. Don't forget that you can use existing suitcases and bin bags to pack certain items like clothing. Check out our Moving Boxes guide to find out more.

Buy Packing Material.

On top of boxes, you will need to get other items necessary for packing boxes, specifically:

Packing tape
A marker
Protective materials like bubble wrap and styrofoam for fragile items
Seal lock bags for packing liquids (ie: shampoo bottles, cooking oil, etc.).

Preparing Your New Home.

If you have access to the property prior to your moving day, take advantage of those days to prepare the home. Complete any renovation you would like done, paint the rooms to your preference, and finish with a thorough deep clean of the entire place. Ready to receive your personal belongings on moving day!
Do-it-yourself move If you are not planning on hiring a removals company, you will want to ask for help from family and friends for your moving day. If you have children, consider asking a person to look after them that day and avoid potential distractions.
Checklist #2 - Tips for Packing When Moving House
Now that you have your moving date set and have lined up all the necessary items for the day, it's time to start thinking about gathering your things. Without further ado, here are our packing tips for moving house below:
Establish a Packing Schedule.

Have a walk through your home and note which rooms and items you barely use. You will want to start your packing schedule with these at least 2 weeks in advance. Items like pictures and fixtures are also a good place to start. Be sure to keep a box or two aside for what you will be using until the very morning of your move, items like your kettle, toothbrush, shampoo, and other daily essentials.

Clear Out Sale.

Starting well in advance with your less-used rooms and items will allow you to put aside all the things you no longer need or want. Once you have packed the bulk of your things, have a clear-out sale for these unwanted items so you don't need to move them. You can always give these items to a local charity rather than selling them. Moving home is a great opportunity to cypher through what is really essential.

Packing Tips.

Use the smaller boxes for heavier items like magazines, books, and photo albums. Use your marker to identify each box, it will make the unpacking that much easier. You can either label the room the boxes are coming from or label the rooms they will be going into (if you already know). Check out more essential packing tips in our guide!

Handle with Care.

Use your protective material when packing fragile materials like glass, ceramic, and electronics. Sheets of newspaper work well to protect breakable items from the kitchen and bathroom. Be sure to mark fragile on these boxes and place them on top of the heavier ones.

Valuable and Sensitive Items.

We recommend you make a special box for valuable sensitive items like your passport, bank account information, tax returns, etc. Keep this box apart and bring it in your personal vehicle or by your side on the day of the move.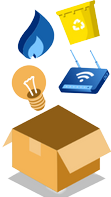 Moving house? Set up all your utilties at once!

Set up your energy, broadband and waste in one hassle-free call!

Ad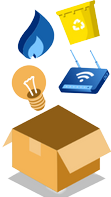 Sorry, we're closed right now!

We're currently closed but please leave us your number and we'll give you a free callback as soon as we'open!

Ad
Checklist #3 - Tips for your Change of Address
Some of the tips for moving house aren't related to packing at all. On top of having to move all of your gear, you will need to advise a ton of companies and agencies of your new address. Here are our moving tips for a change of address advisory:
Home Items

These are some of the first calls you want to make to advise of your new address, items that will make your life easier when you first move into your new house. Specifically, these are:

Home Utilities

Unless you are moving into a new build home, these should already be operational when you arrive. Nonetheless, calling in advance to close or transfer your utility accounts to the new home is a crucial item to look after, especially the following:

Essential Private Institutions

These are more calls to make and ensure a smooth transition between homes for your day-to-day life. Here are some of the private institutions we are referring to:

Your employer
Your insurance company (Home, vehicle, life, etc.)
Your financial institution
Credit card companies (so online transactions with the new address don't get blocked)

Public Institutions

Advising these places is important but perhaps not as urgent as some of the other places mentioned. Concretely, these would be:

Local Property Tax
Vehicle Registration
National Driver Licence Service (NDLS)
Schools
Revenue & other Government agencies
Register of Electors

Recreational Places

These are often the last ones we look after and sometimes even forget about! Places such as:

Newspaper or magazine subscriptions
Gym
Social clubs or societies
You can also download the printable version of our change of address moving tips checklist to tick off each part of the list as you complete them!
Forwarding address Don't forget to set up forwarding mail with An Post. Although an extra cost, it will ensure all important mail reaches your home.
Checklist #4 - Moving Day Tips
Congratulations, you have packed all of your items and have advised everyone you need of your new home address. Now comes the day of the move itself, you will find below our top tips on moving house below:
Start the day well.

Don't rush! Take the necessary time to enjoy one last breakfast in your current home or at your favourite local cafe, you will need the energy today! Pack up those last items after breakfast (toothbrush, kettle, soap, etc.).

Greet Removals Company.

Be there when movers arrive, ensure the driver has the correct address to move to, and provide your emergency contact number just in case.

Close the Home You are Moving From.

One of the more important moving-out tips and tricks is to record your final electricity and gas meter readings. Take a photo even so you know you will only pay for the energy you have used and not the next tenant's energy bill. Other moving-out tips are as follows:

Turn off all appliances
Do a final check of all the rooms, and make sure nothing gets left behind.
Be kind and do a final cleaning of the home, leave it in good condition.
Give the keys back to the landlord or follow whatever arrangements you made to vacate the property.


Save On Your Moving In Costs!
Get up to 60% off all your home lighting needs!
Checklist #5 - Moving In Tips
You made it to your new home! What relief and excitement! Although the most stressful part of moving homes appears to be out of the way, there is still tons of work ahead of you. Time to roll up your sleeves and give one final push and follow our moving-in tips:
Arriving at the New Home.

When you first arrive is when the excitement starts to build up. Here are a few tips on what to do upon arrival when moving house:

Pick up your keys.
If you haven't done so already, try to clean the place before the movers' arrival.
Take your energy meter readings.
Verify everything is in working order (hot water, gas or electric boiler, heating system, etc.)

Removals Company Van Arrival.

You have prepared the new home the best you can for when the moving van arrives. Here are a few things to do when it is there:

Ask the movers to deposit each box as you would have marked on the individual boxes (kitchen, master bedroom, etc.)
Make sure there is no damage to any item as they are being unloaded.
Ensure everything is taken off the van and nothing has fallen on the way into the home.

The First Night.

You may blow a big sigh of relief once everything has made it into your new home, however, the hardest is yet to come. Unpacking and properly settling in can take weeks. To ease the process, here are some unpacking tips when moving house:

Set up your bed first. You will need it and you will be grateful to have access to it whenever you want to stop, especially after such a long exhausting day!
Unpack in reverse order from the packing schedule you made. This will ensure your most essential items are ready first.
There are so many other factors to consider when you move house, be sure to look at our other moving tips guides below.