Electricity and gas providers who have been established in Ireland for eons, newcomers, fixed unit rate or standard unit rate, it's all quite confusing. Energy supplier websites can veer from easy-to-understand, with clear pricing, to so complicated you would need a rosary, an abacus and a polyglot to find out how much switching would cost you.
But wait, before you grab a compass and venture into the maze of electricity and gas terminology, Selectra has got you sorted. We've examined each provider carefully to bring you all the relevant information (rates, cheapest rates, reviews etc.) in our clear and concise guides to electricity and gas providers.
---
Electricity and Gas Suppliers in Ireland
At present we may have ten suppliers to choose from, but it wasn't so long ago that there were just two. The gas market was deregulated in Ireland in 2007 and the electricity market in 2011. As such, you could say that Ireland is light years behind when it comes to developing competition between energy suppliers, when compared with our neighbours in the UK, who deregulated much sooner.
Prior to deregulation, two providers held sway: ESB and Bord Gáis Eireann, supplying electricity and gas respectively. Following deregulation, both were forced to cede over 50% of their customers to new suppliers entering the market, before being allowed to compete for customers again.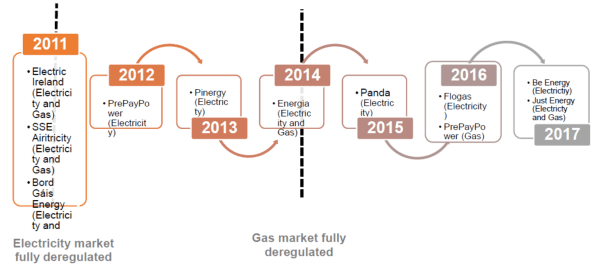 It was hoped that making the market more competitive would lower our expensive gas and electricity rates, but due to the combination of factors affecting Irish energy prices, unfortunately it hasn't really worked out that way. We've also looked into why Irish energy is so expensive. Below you can see sample prices for Irish electricity compared to the rest of the EU in the first half of 2017 (preices are in € per 100kWh)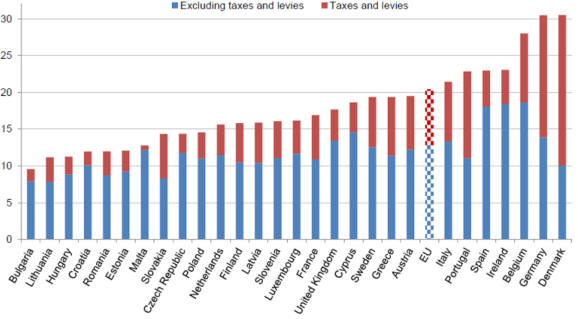 The original suppliers, now Bord Gáis Energy and Electric Ireland, have managed to retain most of their 50% market shares as well as edging into the market they weren't in before (i.e. Electric Ireland now also holds gas market share). By the end of 2018 the CRU reported the electricity and gas market shares as follows:
---
The Role of Energy Suppliers
Energy suppliers, or providers, simply help us secure our electricity or gas supply at an agreed rate and facilitate paying the associated levies, taxes and charges. Indeed nowadays some of them may even offer add-ons such as smart thermostats, in-home displays, solar panels, and more.
One point of confusion that often arises around suppliers, is that it can appear that electricity or gas is being bought directly from the supplier. Thus if your supplier says they provide 100% renewably generated electricity, then you can think that's what you're getting at your house. This is incorrect. All electricity generated goes into one big pot which is shared by everyone.
So why do some suppliers advertise themselves as 100% renewable?
While all energy goes into the same grid, suppliers who are "100% renewable" have sourced and paid for renewable electricity only. This is a good thing because it ensures demand for renewable electricity, and drives cash towards generating it.
 100% renewable suppliers in Ireland include Energia, Just Energy, Panda Power and SSE Airtricity.
 Suppliers who aren't fully renewable include BE Energy, Bord Gáis Energy, Electric Ireland, Flogas, Pinergy and PrePayPower.
What's the difference between dual-fuel, single-fuel, and PAYG-only suppliers?
Dual fuel suppliers offer both gas and electricity. You can also contract gas or electricity individually on a single fuel contract with dual fuel suppliers.
Single fuel suppliers offer exactly that, a single fuel. So you can get either your gas or electricity with them, but not both.
PAYG suppliers all work through prepaid meters. If a supplier is not a PAYG supplier then you may still be able to get a prepaid meter through them, but only as part of a repayment scheme or if you can prove you're having trouble paying your bills.
---
Standard Unit Rate Versus Fixed Unit Rate
If you're unclear about what exactly a standard unit rate is and what the difference is between it and a fixed unit rate, let us explain. Unit rates and types differ from country to country and Ireland's unit rate and tariff structure differs substantially from its neighbours in the UK, for example.
A standard unit rate is the amount that a supplier charges per kWh (kilowatt hour). In Ireland, typically all providers lock you into a 12 month contract when you sign up with them, and offer a discount off the standard unit rate to make their offering more attractive. Once 12 months have passed, customers will remain on the standard rate, but without the signup discount that was offered, and so end up paying more. This is why you should always switch supplier every 12 months.
Note:When suppliers promise you "20% off" for signing up with them, check the small print as the discount is usually always applied to the unit rate, While this is still money off your bill, you'll continue to pay the full price of standing charges, VAT, and government levies (PSO, carbon tax). So whip out your calculator and check, because the offer may not be as cheap as you'd think.
A fixed unit rate is when upon signing up with an energy provider, you both agree to a certain unit rate to be paid for 12 months. This means that if energy costs rise, as they tend to do, you won't see any increase on your bill. Conversely if they should fall, you won't see any benefit either.
This sounds great in theory - we all know energy prices are on the rise and have been for years, so a fixed-unit rate contract must be a no-brainer, right? The catch is that in Ireland these types of tariffs tend to be more expensive than other ones, so a certain amount of calculation, crystal-ball work, and luck is necessary to figure out whether it would be worth it.
---
Considerations when Switching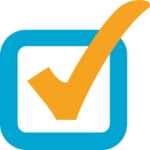 There are several factors to keep in mind when switching, and while some of them seem obvious, others can be easily forgotten and are just as important. It is absolutely indisputable that switching every 12 months is the best and most efficient way to save money on your household's energy bills (there are also plenty of other ways - 101 to be exact - to save on gas and electricity bills.)
1. Cost
One of the most obvious and important factors. Is the offer more economical, should be at the forefront of your mind....good questions but sometimes sacrificing a few euros extra for additional services can be worth it. At the end of the day you also need to keep in mind which other factors are important to you personally, and weigh them all up accordingly.
2. Renewable
It's not just about being hipster anymore, it's official: we need to increase our generation and usage of renewable energy. Otherwise, not only will we be hit with some mega fines by the EU for failing to meet our carbon emission targets, we'll also be stuck paying ever-increasing prices due to our high dependency on fossil fuels. So ask yourself how important it is to you whether an energy provider has renewably sourced their electricity or not (hint - we think it's important!).
3. Customer Service
Many of us have had unpleasant customer service experiences at one point or another and can testify to how frustrating it is. If you'd rather get through to a company with no delay and have your problem promptly and politely resolved, then it may be worth checking out how highly ranked the customer service of your prospective provider is. On the other hand, if eternally waiting on hold and being passed around to five different people before your call is dropped is your thing, then disregard this factor.
4. Exit fees
Really this should come under point number one, but many people don't read the fine print and aren't aware of the conditions of early contract termination when signing up with a new energy provider. All Irish suppliers charge an exit fee, unless you are out of contract (in which case you're already paying through the nose). The standard fee is €50, but some companies charge this per fuel, some for both fuels, and others charge a set amount of around €11 per month remaining. So depending on your luck, you could end up paying just €50 to exit a dual-fuel contract, or if you cancel two months in, around €100-110.
---
What do I do if my electricity or gas isn't working?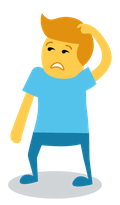 If you're up to date with your payments and your neighbours are having connection issues as well, then this is probably an issue with the grid and you should notify the network operators. For gas, call Gas Networks Ireland, and for electricity call ESB Networks. You may be charged an engineer callout fee if the fault is found to be in your home (a faulty or blown fuse, for example) so do check everything before calling in the experts.
However if you've fallen behind in your bills, and your neighbours aren't having any issues with their supply, then unfortunately it may be that you've been cut off. In this case, you'll need to call your supplier to arrange for reconnection.
The Energy Engage code was launched in Ireland in 2014. All Irish suppliers voluntarily pledged to never cut off customers who engage with them and to offer realistic repayment or PAYG options. So if you're falling behind on your bills, reach out to your supplier sooner rather than later.
---
The Future for Irish Suppliers
As we can see from the table above, not all suppliers have made the move to 100% renewable yet so this is definitely something we would like to see implemented over the coming years. The issue of Brexit looms and the uncertainty surrounding it, and how it will affect our electricity prices due to ISEM, is of great concern. Our gas pricing could also increase due to a high reliance on Britain for imported gas.
All this can distract from the issue at hand which is that we have committed to reducing our carbon emissions and to greatly increasing our use of renewable energy, full stop.
But it's not all doom and gloom, as the Celtic Interconnector has arrived on our horizon to brighten our futures. What is the Celtic Interconnector? Put simply, it's a submarine power and fibre cable which will connect southern Ireland to the north-west coast of France (most probably to Brittany, one of the six recognised Celtic nations, hence the title).
The Celtic Interconnector will greatly improve the security of Irish electricity supply, lower supply costs, and help develop renewable energy more as both countries will be able to benefit from and encourage renewable electricity generation from either end of the cable. Feasibility studies for the Interconnector have been completed and the decision to proceed with it will be made in 2020 or 2021, with the cable predicted to be operational by 2025.
Whatever the changes to come, Selectra is here to keep you informed.