Understand Your Utility Bill: Electricity & Gas in Ireland

While some elements of your utility bill are fairly clear, others can be really confusing if you don't understand all the terminology. In this guide, we explain common terms on your electricity and gas bill, as well as how to calculate them. This will make it easier for you to understand you energy bills so that you can then identify ways save money.
---
What is considered a utility bill?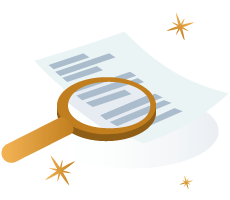 Generally speaking, a utility bill can be for electricity, gas, water and garbage. Nowadays, TV, internet and phone plans can also be considered utilities, as they are common expenses in most Irish households.
Depending on your location, usage habits, the climate, the size of your home and other factors, the cost of your utility bills can vary quite a bit. Your utility bill contains valuable information, and you should always check the details carefully.
In this guide, we discuss utility bills that concern gas and electricity. These tend to be the most expensive bills, and by better understanding them, you can identify ways to cut your energy costs.
Key points to keep an eye on with electricity and gas bills are meter readings, price plans, balances and payment dates. You can also compare the unit usage with previous bills to help make sure you aren't wasting any energy.
For further information on how to reduce your household bills, check out our guide on 101 ways to save money on your energy bills.
Do you have a prepayment meter? Head to our PAYG (pay as you go) guide for more information about this payment method.
---
Understanding your electricity bill
Your electricity bill will make up the bulk of your energy bill since electricity is more expensive than gas. You'll find common terms that appear on your electricity bill in the table below, along with their explanations.
How to calculate your electricity bill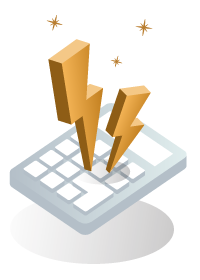 Electricity bills are typically issued every two months. Do the following to calculate your electricity bill:
Obtain your electricity usage. The average household consumes 700 kWh of electricity every two months. Multiply this number by your electricity unit rate.
Obtain your daily electricity standing charge and multiply this number by 61 days (to give you the amount for two months). You can also calculate this cost by dividing your annual standing charge by six.
Divide the PSO levy (which is €88.08 per year) by six.
Add all of the above products and quotients together. This will give you the amount of your electricity bill per two months.
We show an example below for an urban household that consumes 700 kWh of electricity per two months on Electric Ireland's standard tariff. The unit rate is 19.9 eurocents per kWh. The standing charge is €173.29 per year.
(700 x €0.199) + (€173.29 / 6) + (€88.08 / 6)= €268.86
Answer: €268.86 per two months
In the table below, you'll find the best electricity offers per supplier.
*Figures are for illustrative purposes only. Calculations based on average consumption figures for an urban home with a 24-hour standard meter. All discounts and cashback have been applied. Last updated: August 2022
---
Understanding you gas bill
Your gas bill contains a lot of similar information to your electricity bill, generally you can expect to find the following on it.
How to calculate your gas bill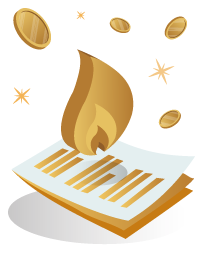 Calculating your gas bill is similar to calculating your electricity bill. Gas bills are usually issued every two months. We break down how to calculate it below:
Obtain your gas usage (which is expressed in kWh). The average usage is 1,833 kWh per two months. Multiply this by the unit rate.
Multiply the carbon tax (which is currently .535 eurocents/kWh) by your gas usage.
Obtain your yearly standing charge and divide it by six (to give you the price for two months). For this step, you can also obtain your daily standing charge and multiply it by 61. This will give you the same answer.
Add all of the above products and quotients together. This will give you the amount of your gas bill.
Below, we provide an example for an urban household that consumes 1,833 kWh of gas per month on Electric Ireland's standard tariff. The unit rate is 5.391 eurocents per kWh. The standing charge is €103.04 per year.
(1,833 x €0.05391) + (1,833 x €0.00535) + (€103.04 / 6) = €116.01
Answer: €116.01 per two months
---
Issues with your utility bill?
For any errors or issues with your utility bill, your first port of call is to contact your supplier and provide them with your account number and the invoice number. If your provider do not resolve your issue to your satisfaction, or if they are taking an inordinate amount of time to do so, you may then file an official complaint with the supplier. If you do so, don't forget to get the complaint reference number before you get off the phone, as you will need it should you take the issue further.
If the issue with the utility bill still hasn't been resolved within two months, you should then proceed to file a complaint with the CRU.
---
Why is my utility bill unusually high?
Nobody likes opening their bill and getting a nasty shock when they see the bill they had budgeted for is much higher than expected. Consider the following issues before contacting your supplier if you think your utility bill is excessively high.
Season - Heating your home is much more expensive in the winter. Similarly, if the summer is unusually warm and you have the air-conditioning running, or fans on in every room, this can also contribute to a higher utility bill.
Household Improvements - Have you had any renovations or extension-work carried out at your home during the past billing period? The contractors and the electricity they needed for the work to be carried out can increase your utility bill. Windows or doors may have also been left open while the heating was on, to increase drying time of materials. If new electricity points and lights were installed, this will also cost you more in terms of increased energy expenditure.
Rate Increase - If you're on a variable tariff, as are the majority of people in Ireland, it's possible that your tariff unit rate has gone up. Even if you're not on a variable tariff, there have been changes to government levies (such as the carbon tax). It could also be that if you previously switched provider to avail of a discount, your discounted period has ended and you have been rolled on to the standard unit rate with no discount. If the latter is the case, you can try renegotiate a new discounted contract with your provider or switch to a cheaper electricity or gas offer.
Additional People - If you've had visitors staying at your home, or if more people have been at home during the day due to illness or holidays, all those extra showers and increased hours of electricity and heating usage will add up.
Moving Home - Have you recently moved home? Your new house may not be as energy efficient as your old one, or it may be larger in size. In particular, have a look at your home-heating and hot water elements (radiators, boiler, immersion…) to see what might be causing the increase. You can also check out our handy guide on the best way to heat your home.
Estimated Bills - If your utility bill is very large and was estimated, it's possible that your usage was overestimated and that you have been charged more than you should have been. Also, if a previous bill was estimated, it may have been underestimated and your next bill will be bigger due to including any shortfall from the amount you previously paid. This is particularly true of gas bills, where six are issued each year and two are estimated. If you receive an estimated bill, you should always submit a meter reading in order to keep your bill up to date and avoid any unpleasant surprises.