Grants for Windows & Doors in Ireland

---
Energy-efficient windows and doors can help conserve energy and keep your energy bills down. Read on to learn about what grants for windows and doors are available and find out if you qualify.
Thinking of replacing the windows or doors in your home with more energy-efficient ones? While this is an effective way to save money over time on your energy bills, it can be difficult to cough up the funds needed for the initial upgrades.
To help you find out if you're eligible for support, we've researched the schemes in Ireland that offer grants for windows and doors.
In the list below, you'll find a list of such schemes. The first three schemes are available through the Sustainable Energy Authority of Ireland (SEAI).
Read on to learn more about each scheme and find out if you qualify for a grant for windows and doors.
SEAI Grants for Windows and Doors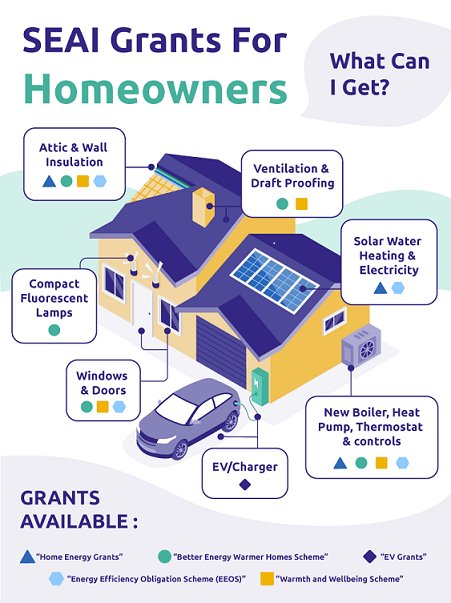 The Sustainable Energy Authority of Ireland (SEAI) offers the following three grants that include upgrades for windows and doors:
In addition to offering grants for windows and doors, various other grants are also available with SEAI.
As broken down in the image on right, you may be eligible for the following other upgrades with SEAI:
Attic insulation
Wall insulation
Ventilation
Draft proofing
Solar water heating
Solar panels
Compact Fluorescent Lamps
Heat pump
Boiler
Heating controls
EV charger
For information about all the SEAI grants for homeowners, you can also head to our dedicated SEAI grants guide.
For now, let's have an in-depth look at the SEAI grants for windows and doors.
Better Energy Warmer Homes Scheme
The Better Energy Warmer Homes Scheme offers free replacement windows for individuals that receive certain welfare benefits.
To qualify for a window grant via this scheme, you must own and live in a home that was built and occupied before 2006. Priority is given to the least energy-efficient homes in the country, those built prior to 1993 with a Building Energy Efficiency rating (BER) of E or lower. You must receive at least one of the following to be eligible for this scheme:
Working Family Payment
Fuel Allowance (as part of the National Fuel Scheme)
One-Parent Family Payment
Carers Allowance (and live with the person whom you care for)
Domiciliary Care Allowance
Disability allowance for at least 6 months and at least one child under 7 years old
To receive a grant for replacement windows under this scheme, an SEAI contractor will need to visit your home to measure the dimensions of the windows. Once this information has been sent to the supplier for manufacturing, it will take about four to five weeks for the installation to take place.
Warmth and Wellbeing Scheme
This programme was a pilot project which ended in February 2022. Any applications received for this scheme are being transferred to the previously mentioned Better Energy Warmer Home Scheme.
The warmth and wellbeing scheme targeted people who live with a chronic respiratory disease. These citizens may have been eligible for replacement windows and doors under this programme.
The following criteria must have been met in order to receive the grant for windows and doors:
You live with a chronic respiratory condition
You are either 55 or older or under 12
An HSE official has referred you to the scheme
You reside at the property where new windows or doors are needed
The home was built and occupied before 2006
You (or another member of the household) receive either the One-Parent Family payment or the Fuel Allowance
You live in the area designated for the scheme (Dublin 8, 10, 12, 22 and 24)
You either own or rent the property from an approved housing association/local authority
This scheme worked on a referral basis. You must have applied for this grant on the SEAI website prior to February of 2022. If your application was accepted, an SEAI surveyor will contact you and arrange a time to visit the property. The surveyor will then visit your home and make note of the required works.
If the surveyor identifies eligible upgrades, an SEAI Installer will then be assigned to your home. This installer will then contact you to make arrangements for installations. Due to such high demand, it could take up to 12 months for the repairs or renovations to be completed.
Once the works have been completed, a full inspection will be carried out. Your home will then be given its new Building Energy Rating (BER).
Energy Efficiency Obligation Scheme (EEOS)
This scheme requires obligated parties (energy suppliers with sales greater than 600 GWh per year) to provide support to homeowners for energy efficiency projects, such as certain home improvements.
Under this scheme, you may be able to get a grant for full window and external door replacements.
To apply for a grant, it's best to first contact your own energy supplier to see if they will offer support. If not, you can reach out to any other obligated party for help. The following domestic energy suppliers are considered obligated parties:
For more information about this scheme and how to apply, head to the designated guide on the Energy Efficiency Obligation scheme (EEOS).
Other Grants for Windows and Doors
SEAI isn't the only provider of grants for windows and doors. Below, we discuss some other home improvement grants that are available in Ireland.
Housing Aid for Older People Scheme
This scheme is aimed at elderly people living in poor housing conditions. You must be over the age of 65 to qualify. Works covered by this scheme include the repair or replacement of windows and doors.
The following table shows the maximum grant values per annual household income. Note that grant values may differ depending on your local authority.
| Household income | Percentage of total cost | Maximum grant value |
| --- | --- | --- |
| Less than €30,000 | 95% | €8,000 |
| €30,000 - €35,000 | 85% | €6,800 |
| €35,001 - €40,000 | 75% | €6,000 |
| €40,001 - €50,000 | 50% | €4,000 |
| €50,001 - €60,000 | 30% | €2,400 |
| More than €60,000 | none | no funding available |
To apply for a grant for windows and doors via this scheme, download an application from your local authority's website. You can also contact your local authority to request an application by post. Applications are prioritized based on financial and medical circumstances.
Note to Landlords! This scheme is eligible for any home where an older person resides! They do not necessarily need to own the home to have the work done. In short, if you are a landlord and have a long-term lease agreement with a tenant over 65 years of age whose annual income is lower than €60,000 a year, you can apply for this government scheme.
Home Renovation Incentive (HRI) Scheme
This scheme is no longer available. However, you can still make a claim for works that were carried out and paid in full prior to 31 December 2018. If you required planning permission for the work, it must have been set in place by 31 December 2018 and the work must have been carried out before 31 March 2019.
This scheme allows homeowners to claim tax relief on repairs and renovations. The improvements must be carried out on their main property. Holiday homes and new builds do not qualify for this scheme. The works must be carried out by a qualified and tax-compliant contractor that is both VAT and RCT.
In addition to availing of significant tax relief, many individuals have been able to make cost-efficient improvements and add value to the comfort and value of their home with this scheme.
Under the Home Renovation Incentive (HRI) Scheme, homeowners, landlords and local authority tenants can claim tax relief on repairs and renovations, such as window replacements, that were carried out prior to 31 December 2018.
The tax credit depends on the total cost of the works, as well as if you received any grant, insurance or compensation claim. For those who did not receive any support from grants or insurance, the tax credit value will be 13.5% of the total cost you spent on the home improvements (up to €30,000).
To qualify for the tax credit, you must have spent at least €4,405 (before tax) on the repairs or renovations. While window replacements may not reach this figure, the total cost can include a number of different home improvements as long as they were all carried out within the allotted time period.
You can make the claim through the HRI online system. It must be made within four years from when you paid for the work.
In addition to glazed windows and doors, you can also receive a grant to cover upgrading the following products:
flat roofing
roofline
conservatory tiled roofs
attic insulation
fascia
soffit
Feel free to browse through our scheme guide pages to get further information on other home-saving programmes.
Contact for Windows & Doors Grants
Do you have a query about a certain grant for windows and doors? Perhaps you're unsure if you're eligible or you have questions about the application process. To help you get your query solved as quickly as possible, we've listed all the contact numbers and details below for the schemes we described in the previous sections.
Contact for SEAI Window & Doors Grants
For queries regarding SEAI grants for windows and doors, call 1800 250 204. To speak with an HSE representative about the SEAI Warmth and Wellbeing Scheme, call 01 427 5032.
SEAI Contact Phone Numbers

| SEAI Scheme | Contact Number |
| --- | --- |
| General | 1800 250 204 |
| Warmth and Wellbeing Scheme | 01 427 5032 |
Depending on the SEAI grant, you can also write to its corresponding email address:
Contact for other Schemes
Do you have a query that's not for SEAI? To speak with someone about the Housing Aid for Older People Scheme, you will need to contact your local authority. For more details about the Home Renovation Incentive (HRI) Scheme, contact your local Revenue office.
If you're looking to save money on your energy bills, you can also give us a call here at Selectra on 15 256 883. One of our energy experts can help you switch to a cheaper tariff in minutes so that you can start saving on your energy bills today.
Let's now have a look below at some common questions that people have concerning new windows and doors.
New Windows & Doors FAQs
How much do new windows and doors cost?
The cost of new windows and doors varies depending on many factors, such as size, style and material. New windows usually range from €450 to €1,700 per window. A new door costs around €700.
How many years do new windows last?
Windows usually last for 20 to 25 years. While aluminium windows are more susceptible to dents, vinyl window frames, such as uPVC, can last for up to 40 years. Other external factors, such as extreme weather conditions, can also affect how long your windows will last.
How much can new windows save on energy costs?
Replacing old single-pane windows with new energy-efficient ones that have double or triple glazing could reduce your energy bills by €100 to €400 per year. If you already have double-pane windows, your savings will be much less at an estimated €20 to €100.
What time of year is best to replace windows?
It's best to replace windows in the spring or early summer. Not only will you avoid letting in a cold draft, but some materials, such as caulk, should only be applied when the temperature is above 5 degrees Celsius.
If your windows are inefficient and it's the middle of winter, you don't have to wait until the warmer months to replace them, however. By going ahead with the work, you will likely notice an extreme increase in your home's comfort level once the new windows are installed. Many companies also offer discounts during the offseason.