Gas Networks Ireland: How Do I Get a Gas Connection?

If you are looking to install, replace, or move a gas meter, you will first need to contact Gas Networks Ireland to do so. In this guide, we cover all the gas distributor services, projects, contact phone numbers, and much more. Read on to discover all there is to know about Gas Networks Ireland.
Energy

Looking to switch suppliers? Give our experts a call!

Our energy specialists can help you switch to a better energy plan in just a few minutes!

Energy

Looking switch energy providers?

We're currently closed but please leave us your number and we'll give you a free callback as soon as we'open!
What Is Gas Networks Ireland?
Gas Networks Ireland has been operating in the Republic of Ireland providing natural gas services, in various incarnations, since 1975, when it was named Bord Gáis Eireann. In the early 2000's it was divided into two separate entities to keep in line with EU public utility reforms.
The consumer branch was renamed Bord Gáis Energy and has since been sold to the Centrica consortium, an international energy services company based out of the UK.
The distribution network became Gas Networks Ireland, managed by Ervia. Ervia is a semi-state-run company responsible for the infrastructure of Ireland's gas and water distribution.
Did you know?Bord Gáis acquired Dublin Gas, previously known as the Alliance and Consumers' Gas Company, in 1987. Dublin Gas was founded in the early 19th century by none other than Daniel O'Connell!
What Does Gas Networks Ireland Do?
Gas Networks Ireland is responsible for supplying, updating, and maintaining the Irish natural gas supply system. They are also the company responsible for dealing with gas leaks and emergencies.
They provide several essential services for Irish residents which we examine in detail below. These services are:
The Gas Emergency number is 1800 20 50 50This Gas Networks Ireland emergency number is available 24/7, 365 days of the year. Dial if you smell gas or suspect any issues with a gas line.
How Can I Get a Gas Supply Connection to My Property?
As there are various options to receive gas to your property, we have divided them into the following three categories:
How Do I Get a Gas Meter Connection to My Property?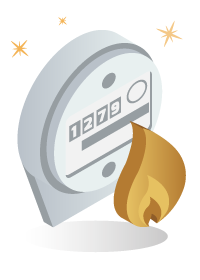 If you're not connected to the natural gas supply pipeline and would like to be, you will need to follow these easy steps:
Verify if your home can connect to a nearby supply. To do this, check out your address or Eircode on the Domestic Gas Map to see if it is possible.
You will then need to complete an application to request a connection to the gas network.
You will receive a quote for connecting to your property which you should review. In some cases, a visit to the property may be necessary.
Next, you will have to pay for the gas connection. See the costs section below for details.
How Much Does a New Gas Connection Cost?
If there is no existing connection to the gas network at your property, you will need to pay for one if eligible. The cost of the installation will depend on two factors, the distance of your meter to the gas network and who does the digging (trenching).
We break down the costs of a new gas line connection in the table below.
Costs for New Gas Line Connection

| Distance from your home to the gas network | Cost of trenching done by Gas Networks Ireland | Cost of do-it-yourself trenching |
| --- | --- | --- |
| 0-15 metres | €249.70 | €249.70 |
| More than 15 metres | €249.70 + €51.32 for every extra metre over 15m. | €249.70 + €10.97 for every extra metre over 15m. |
Source: Gas Networks Ireland
Last Updated: 10/04/2023
It's important to remember that any installation work needs to be completed by a Registered Gas Installer (RGII) or service engineer. You can always peruse our other essential energy market entities pages or get energy-saving tips. If you also be undergoing some electrical work, the equivalent of the RGII for electricity is the Register of Electrical Contractors Ireland (RECI).
What Is the Gas Meter Replacement Programme?
If your current meter is over 20 years old, then you can have it replaced by Gas Networks Ireland for free. In fact, representatives may contact you to advise you of their visit as part of their gas meter replacement programme. The removal of the old meter and installation of the new one takes approximately 45 minutes.
To request this service you just need to fill out the gas meter replacement form and include the following details:
Your full name
Your contact number and email address
Your GPRN
Your preferred time for an appointment.
Once the form is submitted, you will be contacted by Gas Networks Ireland to finalise the appointment time. Should something arise and you need to rearrange your appointment, contact Gas Networks Ireland at 1800 427 737.
There are currently no smart meters available for gas in Ireland, although future plans include the possibility of integrating smart gas services with the existing Smart electricity meters.
How Can I Move an Existing Gas Meter?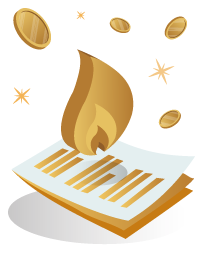 If your property has gas then it stands to reason that there is a gas pipeline buried in your garden or under your driveway or patio. When considering any home improvements which require excavation work such as an extension (or a pool, if you've won the lottery!), then it is absolutely essential that you find out where the pipeline is to move it!
Accidentally rupturing a pipeline can disrupt the supply network and cause severe injury, possibly even death. You will also be liable for any repair work to the pipeline.
To avoid such potentially dangerous situations, Gas Networks Ireland provides both a telephone number and an e-mail which you or your contractor can contact before beginning work, to find out exactly where the pipeline is.
DBYD contact number: 1850 427 747 DBYD email address: [email protected]
Concerned about your gas meter being tampered with?It is illegal to tamper with, as well as ask someone to tamper with a gas meter. Only authorised personnel can do work on your gas meter. If you suspect your gas meter has been compromised, dial 1800 464 464 to speak to a customer service representative, Mon-Fri 08:00 – 20:00; Sat 09:00 – 17.30.
How can I obtain my GPRN number and Meter Key?
Every gas meter in Ireland is given a specific location number called a GPRN. This is to identify which meter is associated with your home's gas usage.
Once your meter is installed, the installer should provide you with a gas meter key. You will need this key to open your meter box if you want to turn off the gas supply or take a meter reading.
If you lose your meter key or have moved into a new house and haven't been provided with one, you can fill in your details online in this form to obtain one. Gas Networks Ireland will send you a new meter key free of charge.
You will need to provide the following information to receive a new key:
Your contact details
Your address
Your GPRN number
How Can I Submit a Meter Reading with Gas Networks Ireland?
You should be able to send your meter readings directly to your gas supplier, whether it is Bord Gáis, Electric Ireland, Energia, Flogas, Iberdrola, Panda Power, PrepayPower, or SSE Airtricity. Alternatively, you can also directly send Gas Networks Ireland meter readings as they manage all of the gas meters in the country.
Gas Networks Ireland only takes four readings a year and the remaining two are estimated. As such, we recommend submitting your own meter readings to keep your bills accurate. Meter readings can be submitted on the Gas Networks 'submit meter reading' page using your GPRN or by calling their dedicated meter reading phone number of 1800 427 732. The automated system is available to take your gas meter reading information 24/7.
What Are Gas Networks Ireland Business Services?
The process for businesses to obtain a gas connection in Ireland is the same as all of the above-mentioned for residential customers.
The only difference for Gas Networks Ireland business customers is the use of a different contact number of 1800 411 511. Business representatives are available Mon-Fri 09:00 – 17:30.
What is the Gas Networks equivalent for electricity?For electricity, the equivalent organisation of Gas Networks Ireland is ESB Networks. Much like Bord Gáis Eireann, its existence arrived after the deregulation of the electricity market in Ireland. Eirgrid looks after the transmission of electricity for the Nation.
How Can I Contact Gas Networks Ireland?
The gas distributor has multiple contact numbers and departments, consequently, it can be a bit of a head-scratcher getting through to the correct department quickly and easily.
As such, we have summarised for you in the table below all of Gas Networks Ireland's contact details.
Gas Networks Ireland Contact Information
Department
Contact Details
Hours of operation
Customer service

1800 464 464


Email:

[email protected]


From overseas:

+353 66 7107334

Mon-Fri 08:00 – 20:00

Sat 09:00 – 17.30

Business Customers

1800 411 511


Email: [email protected]
Mon-Fri 09:00 – 17:30
Submit a gas meter reading:

1800 427 732

24/7 automated system
Emergency service

1800 20 50 50

24/7
Carbon Monoxide Safety Line

1800 898 989

Monday – Friday 08:00 – 20:00

Saturday 09:00 – 17:30

Dial Before You Dig

1800 427 747


Email:

[email protected]

Monday – Friday 09:00 – 17:30
Media Contacts
Email:

[email protected]

N/A
Technical Training Centre

01 892 6000


Email: [email protected]
Monday – Friday 09:00 – 17:30
Disability Access Officer

01 892 6000


Email:

[email protected]


Post: Customer Care Manager
Gas Networks Ireland, Networks Services Centre,
St. Margarets Road, Finglas, Dublin 11, D11 Y895
Monday – Friday 09:00 – 17:30
The distributor is also active on Social Media which sometimes can get you a quicker response to your query. Have a look at the following Gas Networks Ireland social media channels:
What Are the Gas Networks Ireland Projects?
With Ireland signing the Paris Agreement which aims for the country to be carbon-neutral by 2050, the use of fossil fuels like natural gas will need to be severely altered.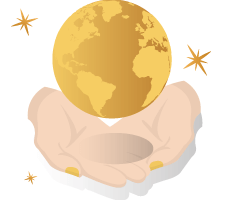 There is a large amount of investing happening for renewable energy sources like wind and solar panels while other practices like fracking are being questioned.
Gas Networks Ireland is not blind to this trend and requirements to help the environment. It has therefore put in place the Vision 2050 project for the gas network to evolve into a carbon-neutral endeavour.
They plan to reach this goal by concentrating funding and efforts in three distinct areas, these are:
Decarbonisation
Transitioning towards clean energy with a focus on affordability, security, and sustainability.


Replacing Natural Gas
Aiming at net-zero emissions, moving towards renewable gases such as hydrogen and biomethane.


Support for a Clean Future
Work alongside the electricity market to assist in efficient home-heating systems, transportation (hybrid and electric cars), and agriculture.
There is a lot to be done in terms of climate change and let's hope these great initiatives from Gas Networks Ireland will prove fruitful.
FAQs about Gas Networks Ireland
Below are some frequently asked questions and answers regarding Gas Networks Ireland.
Is Gas Networks Ireland the same as Bord Gais Eireann?
No. Bord Gáis Eireann was originally set up in 1975 as a utility state gas provider.
As previously mentioned, Bord Gáis Eireann had to undergo minor branding and structural changes when the Irish gas market was deregulated in 2007.
The retail arm was named Bord Gáis Energy, and the supply network eventually changed to Gas Networks Ireland or Líonraí Gáis Éireann.
The two are no longer associated, Bord Gáis being one of 12 electricity and gas suppliers in Ireland, whereas Gas Networks handles the infrastructure necessary for the gas to be supplied to the now deregulated energy market.
Is Gas Networks Ireland the same as Ervia?
No. Gas Networks Ireland is owned by Ervia, a semi-state-owned utility network provider. In essence, Gas Networks Ireland is one of the branches managed and operated by Ervia.
Ervia also manages the infrastructure and distribution of Irish Water and Aurora Telecom. The latter division receives plenty of competition from other telecom projects like Eircom and SIRO.
Who owns Ervia?
Ervia is a semi-state-owned corporation. Semi-state-owned entities function exactly the same as other Irish corporations with the only difference being that the corporate directors are appointed by government officials instead of the shareholders.
What do I do if I smell gas?
Should you ever smell gas in your home or any public site, the first thing to do is to contact Gas Networks Ireland. Their emergency phone number is 1800 20 50 50 and is available 24/7.
If for some reason you can't get through to the emergency number above, follow these simple steps:
Dial 999 straightaway.
Turn off your gas appliances and the gas supply at the meter,
Open windows and doors,
Avoid smoking or using any source of fire.
Also, avoid unplugging or switching on any electrical appliances as these may cause a spark.
Important NoteIf there is an electrical outage your gas appliances will also not work and you should switch them off.
I am a vulnerable customer, what are my rights?
Gas Networks Ireland will not disconnect the gas supply of any vulnerable customers during the winter months, between November 1st and March 31st. The only time your gas supply would be cut is for safety reasons, for which, you would receive prior notice.
Visit the vulnerable customers' webpage to see eligibility criteria and other services you could be entitled to.
Where Does Ireland Source Its Gas?
Most of Ireland's current gas supply (58%) comes from the Corrib and Kinsale gas fields. The remainder is imported from Britain (Scotland, via a subsea pipeline system) as we currently do not produce enough supply to meet our consumption, and as a result of this, the British gas market affects our natural gas prices strongly. Before the Corrib gas field started supplying Ireland with gas, a staggering 96% of gas was imported from Britain.
It is expected that the current output from Corrib will soon begin to decline, increasing Irish dependence on importing gas, unless a new gas field is discovered or usage is reduced. Check out our handy guide for ways to reduce your usage and gas bills at home.
Find out more about our offers from energy, broadband and waste collection providers!