Smart Heating Controls: Which Is Best in 2023?

With so many smart heating controls on the market right now, and new features being added to them all the time, it can be hard to know which one would be best for your home. We analyse the most popular smart heating controls in Ireland so you can decide which is best for your home.
To determine which is the best smart heating control system, we have compared the different brands in the following four categories:
Features
Appearance
Apps
Pricing
Let's look at the results of how each brand ranks under each of these categories. These will be the brands that'll be looking at:
What Are the Main Smart Heating Control Features?
To make it easier to separate the chaff from the wheat, we analyse and explain all the different features available with each smart heating control. Here are the more important features of a smart heating control you will want to compare:
Text control
With this feature, you can turn your heating on or off via SMS, handy when you have no internet or the app is acting up.
Autoadapt
Your thermostat will use the outside temperature and what it has learned about your insulation to automatically adapt the heat required to get to the set temperature.
Smart Schedule
Heating controls go a bit Skynet as they pay attention to when you turn the heating on and off and when you boost it, to find out and automatically set a heating schedule you'll love.
Open Window Detection
This option turns off your heating in a room where a window is open so you don't end up throwing all your hard-earned money out the window.
Geofencing
Although it sounds somewhat reminiscent of the "invisible" electric fences for dogs, geofencing is actually just a way for your smart heating control to tell if anyone is home by tracking the GPS location of users' mobiles.
Hot Water
With this highly rated feature you'll have some control over your hot water, depending on the thermostat. Some just allow you to turn it on, while others (like the Climote) allow you to set the temperature.
Multi-Zone Heating
Allows you to control different heating zones of your home, to avoid heating up rooms you're not using. Sounds great, but also usually means you'll have to buy additional smart heating controls for each zone (expensive).
Compatibility
Apple HomeKit hasn't really taken off yet, and by the time of writing most thermostats had caught up and were both Google and Alexa compatible.
Understanding what each feature does should help you decide which ones are more important to you. As such, we list below which smart heating control includes the above mentioned features. This should allow you to quickly narrow down your choices to the brands who offer the features most important to you.
Smart Heating Control Features List

| | | | | | |
| --- | --- | --- | --- | --- | --- |
| Thermostat | Climote | Hive | Nest | Netatmo | Tado |
| Text control | No | Yes | No | No | No |
| Auto-adapt | No | No | No | Yes | No |
| Smart schedule | No | No | Yes | No | Yes |
| Open window detection | No | Yes | Yes | No | Yes |
| Geofencing | No | Yes | Yes | No | Yes |
| Hot water | Yes | Yes | Yes | Yes | Yes |
| Multi-zone heating | Yes | Yes | Yes | Yes | Yes |
| Alexa compatible | Yes | Yes | Yes | Yes | Yes |
| Google Home compatible | No | Yes | Yes | Yes | Yes |
| Apple Homekit compatible | No | No | No | No | Yes |
| Overall rating | ⭐⭐⭐ | ⭐⭐⭐⭐ | ⭐⭐⭐⭐⭐ | ⭐⭐⭐ | ⭐⭐⭐⭐⭐ |
What Is the Smart Heating Control Appearance?
While the appearance of your smart heating control doesn't tend to come first to mind when considering making a purchase, it is important. Whichever thermostat you buy can either improve the way your home looks, or worsen it, and with such stylish options to choose from you'll be spoiled for choice.
We can confidently say there are no bad choices here as great attention has been paid to the smart heating control design.
Climote Thermostat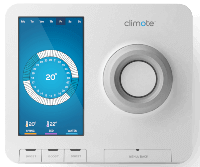 The Climote smart heating hub is the largest of the lot at 14.5 cm wide and 12.7 high, and it looks a bit like a rather large smartphone. It also has the largest screen out of all of the thermostats reviewed here, and this combined with several buttons and a dial lends it more functionality than the smaller thermostats. With the Climote you are not completely dependent on the app.
Although it's not the most stylish out of the bunch, it's relatively attractive considering its large size. There are also no options for customising the unit, which just comes in white, and it must be wall-mounted, i.e. it can't be placed on a shelf. We'll give it 3 out of 5 for making an effort even though functionality was clearly a priority here.
Verdict: ⭐⭐⭐
A good choice for people who are always misplacing their phone, or who aren't very tech-savvy, as they can use the Climote to access the same functionality as the app. A bad choice for people who would prefer unobtrusive or sleek elements in their home.
Hive Thermostat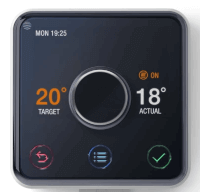 The Hive is a size that is more or less on a par with a normal thermostat, at 10cm by 10cm. It has a glossy black screen on which three buttons are placed and a dial. The placement of the dial regarding the screen makes it really easy to see whether you're turning the temperature up or down.
If you want your Hive thermostat to match your decor, or perhaps even stand out more as a statement piece, you can purchase different colour frames for it separately. These frames are available in 11 colours. If you purchase a stand as well, you have the option of wall mounting it or popping it onto a shelf within reach.
Verdict ⭐⭐⭐⭐
An attractive modern design and we really like the option of changing the casing. Functionality without the app is moderate, you'll need to fire up your mobile to change the more complicated settings, so we'll give it 4 out of 5 stars.
Nest Thermostat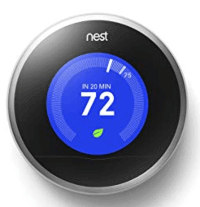 The Google Nest smart heating control is hands down the most attractive and the most diminutive thermostat. A mere 8.4cm in diameter, with a pared-down glossy black display, it manages to look high-tech yet simple at the same time. It can be mounted on the wall or with a stand on a shelf.
You can personalise the look of your Nest thermostat with a choice of four different cases: Steel, white, copper or black. We are big fans of the copper finish paired with a black background on the thermostat. However, you'll have to remember that the background colour does change and is orange when heating, blue when cooling, and black when off or set to ECO.
Surprisingly, given its simple appearance, no functionality has been sacrificed. You can click on the outer ring and turn it to navigate settings and options.
Verdict ⭐⭐⭐⭐⭐
It's a resounding five stars from our corner for its smaller size and beautiful design, and clever workaround using the outer frame as a dial to preserve functionality without introducing buttons and dials on the display.
Netatmo Thermostat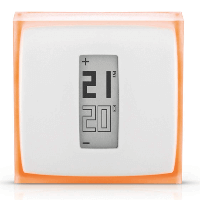 The Netatmo's design is, well, quite basic. As is its functionality. Without the app, there is very little you can do with this buttonless dial-less thermostat, apart from boost the temperature temporarily. It reminds us of a normal clock thermostat but with a more updated paperless ink display.
There has been a very basic attempt at personalization (but hey, at least it's free) where you get five coloured stickers with it that you can stick on the back section to give a little colour to the outer transparent square. It's all a bit of a sad effort as for us, the only real benefit of an all-white thermostat would be to help it blend in with the walls, so why add more colour?
Verdict ⭐⭐⭐
If you prefer using an app to faffing around with your thermostat and are looking for a smart home heating control that won't really stand out much more than a normal thermostat, the Netatmo is your man.
Tado Thermostat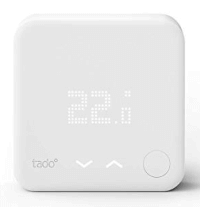 Okay, we may have been fudging it a bit in the intro where we said that the Tado was one of the most popular thermostats in Ireland - although it certainly should be.
The Tado has taken everything that was a little bit blah about the Netatmo and improved upon it. It's another white device that could blend in with your walls, but much less chunky and with a much more space-age light-up display. Simple up and down arrows and a button provide some much-needed functionality.
At 8.9cm x 5.2cm it's nearly small enough to rival the Nest, and an advantage it has over the other thermostats is its depth - a mere 5.2cm designed to blend in more seamlessly at wall-level.
Verdict ⭐⭐⭐⭐⭐
A gorgeous alternative if you still want something more modern but less flamboyant than the Nest.
What Are the Smart Heating Control Apps Like?
Most of the functionality of your shiny new smart thermostat cannot be easily accessed without using an app, so it is quite important. Let's see how each of the main brands rank in this department.
Climote Thermostat App
Climote App Reviews

Google Play rating

2.6/5

Apple store rating

2.5/5

Positive comments

Works well, as supposed to.

Free of charge for the first year.

Negative comments

No Google home support making it very unpopular.

Customers were unhappy with paying for the app after 12 months.
Hive Thermostat App
Hive App Reviews

Google Play rating

2.6/5

Apple store rating

4.5/5

Positive comments

Great app to control heating and lighting when away

Negative comments

Issues with the connection to the boiler being constantly dropped

Recent updates have caused issues
Nest Thermostat App
Nest App Reviews

Google Play rating

4.2/5

Apple store rating

4.7/5

Positive comments

Can be used for your alarm system and security cameras, not just the thermostat.

Very easy to install.

Negative comments

No longer integrated with HomeKit
Netatmo Thermostat App
Netatmo App Reviews

Google Play rating

4.4/5

Apple store rating

4.6/5

Positive comments

Good, functioning app

Very easy to use

Never drops the connection

Negative comments

No geofencing
Tado Thermostat App
Tado App Reviews

Google Play rating

3.7/5

Apple store rating

4.5/5

Positive comments

Great functionality

Negative comments

Geofencing kicks in too late when returning home

Window detection doesn't always work well
After a quick look at our basic comparison of the apps available for smart heating controls, it's quite clear that the Nest and Netatmo are the winners as their apps actually work! It's surprising and dismaying to see the lack of functioning apps when they are very necessary to get the most from high-tech smart thermostats.
What Are the Smart Heating Controls Prices?
Now that we've seen how these smart home heating controls measure up when it comes to features, appearance, and apps, let's see how much they cost in Ireland.
Smart Heating Controls Pricing Comparison

| | | |
| --- | --- | --- |
| Thermostat | Retail Price | Best offer |
| Climote | €399 | Free for new SSE Airtricity customers |
| Hive | €299 | Free for new Bord Gáis customers |
| Nest | €239 | Plus delivery on Currys.ie |
| Netatmo | €179.99 | Free for new Energia customers |
| Tado | €149.99 | Plus delivery on Currys.ie |
The Climote, Hive, Nest and Netatmo offers all include installation, while the Tado is very much a do it yourself job.
If you're interested in getting a smart home heating control through a supplier, it's also worth checking out their energy prices. In the table below, you'll find the best offers from Ireland's largest energy suppliers.
*Figures are for illustrative purposes only. Calculations based on average consumption figures for an urban home with a 24-hour standard meter. All discounts and cashback have been applied. Last updated: February 2023
Verdict: Which Is the Best Smart Heating Control System?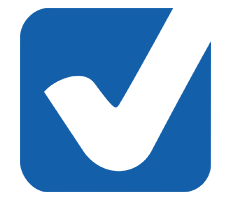 After comparing the five smart home heating controls, we came to the conclusion that there is no one-size-fits-all thermostat, and it very much depends on whether the appearance, features, app or price point are more important to you. Here is a quick summary of each brand:
The Climote Thermostat
Although it's reasonably stylish, is the most expensive to buy outright, and a reduced amount of features and an unreliable app mean we won't be voting for it any time soon. We could, however, be swayed into getting the Climote as part of SSE Airtricity's sweet deal which also includes a free Amazon Echo and the Echo spot. Just as well, as the Climote doesn't work with Google Home.


The Hive Thermostat
Though it's attractive, has plenty of features, and clocks in at €100 less than the Climote for outright purchases. However, it has another poorly performing app, so we would only tend to opt for it if switching to Bord Gáis and getting it for free.


The Google Nest
The Google Nest is a little beauty with a ton of features, has a respectable price-point of €239, and a very well rated app. But is it that much more attractive than the other smart home heating controls?


The Netatmo Thermostat
Its design may be very basic, as are its features, but it actually does what it is supposed to do, all the time. No app downtime or disconnection from your boiler, at the cheapest price of €180 or for free if signing up to Energia.


The Tado Thermostat
The Tado hits it out of the ballpark on most fronts: A sleek design, a wide range of functionality including working with Apple HomeKit and a great app. Unfortunately, there are no great deals from any Irish energy suppliers for the Tado, so if you want one, you will have to shell out the funds and install it yourself.
So there you have it, the strongest and weakest points of each unit in a nutshell - which one will you pick?
Find out more about our offers from energy, broadband and waste collection providers!