Is It Worth Getting a Solar Panel Battery in 2023?

Getting solar panels installed can be an expensive business. Fortunately, you can benefit from SEAI grants that can help fund your solar panel installation. However, if you really want to make your investment worthwhile, you might want to consider getting a solar panel battery. Read our solar panel battery guide to find out more!
---
What Is a Solar Panel Battery?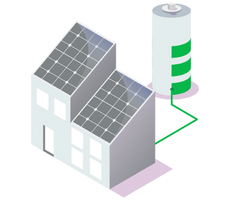 You would think that after spending all the money and applying for SEAI grants, just to have solar panels installed on your roof would be the end of it. However, if you want to get the most efficiency out of your solar panels, you might want to consider investing in a solar panel battery to optimise your solar energy usage.
A solar panel battery is an optional extra for solar panel installation that can store the excess electricity that is generated from your solar panels. Since there will be times in which your solar panels will be generating more electricity than you need, you don't want the rest you don't use to go to waste when you could save it for when it's a cloudy day. A solar panel battery solves this problem.
How Does a Solar Panel Battery Work?
A solar panel battery works as simply as if you were charging a regular rechargeable battery or your phone. The battery is connected to your solar panels and begins storing the energy that they generate when you're not using too much electricity in the house. When there's no sun, the electricity stored in the solar panel battery will then continue to power your home.
A solar panel works a little like the battery in a hybrid or all electric car, but instead of being charged by an EV charger, the solar panel uses sunlight to charge up the battery directly.
What Different Solar Panel Battery Systems Are There?
Depending on the type of solar panel battery you buy, you can have either a DC-coupled system or an AC-coupled system which work in slightly different ways:
DC-Coupled System
A DC-coupled system uses a direct current (DC) where the electricity generated by the solar panels flowing directly in the solar panel battery is stored for later use. This is more efficient than the AC-coupled system but takes more time to install.
AC-Coupled System
In an AC-coupled system, the electricity from the solar panels passes through an inverter in order to convert it to AC (alternating current) before it powers your home. It then needs to be converted back into DC before it can be stored in your solar panel battery. Then, when you need the stored electricity to be converted back into AC in order to use it for your home. AC-Coupling has a lot of benefits since you can also charge from the grid and it's easier to upgrade.
Find Out How Solar Panels Work in Our Guide!
What Happens When the Solar Panel Battery Is Full?
If you've already stored a lot of excess electricity into your solar panel battery, it could be the case that it is full. If your solar panel battery is full, the excess solar electricity will most likely be redirected around your house (probably to the fridge) or it can even be exported to as part of a smart grid.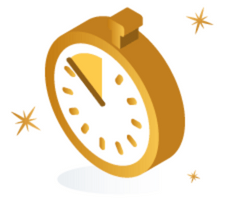 What Is the Lifespan of a Solar Panel Battery?
The lifespan of a solar panel battery depends on a number of factors. Overall, most solar panel batteries will last between 5 to 15 years so you can expect to need to replace it around then. However, there are some that can last around 20 to 30 years and also habits you can incorporate to make sure they last longer.
How Does the Solar Panel Battery Type Affect the Lifespan?
Crucially, one of the most important determinants will be the material your battery is made of since you can have three different types of solar panel batteries: lithium-ion, lead acid, and saltwater:
Lithium-ion
A lithium-ion solar panel battery is most agreed to be the best type to get. Lithium-ion batteries usually have the longest lifespan and are the most compact. They also have a higher Depth of Discharge (DoD) meaning they can be more depleted before needing to be recharged.
Lead Acid
A lead acid solar panel battery has been the standard for a long time now but they are slowly being phased out due to their lower DoD. They also don't last as long as lithium-ion batteries. However they are still much cheaper than the other options available.
Saltwater
A saltwater solar panel battery is a relatively new innovation and the jury is still out on them. They have the advantage of not using heavy metals and are more environmentally friendly.
What is Depth of Discharge? The Depth of Discharge (DoD) of a solar panel battery is the percentage of a battery's capacity that can be used safely. This means that a higher DoD means that more of a battery's capacity can be used before it needs to be recharged. For example, if a battery has a DoD of 90%, this means the battery can drop to 10% capacity before it needs to recharge. A higher DoD generally means a longer lifespan.
What Other Factors Affect a Solar Panel Battery Lifespan?
There are also other factors that can affect the lifespan and are worth considering when looking at buying a solar panel battery and while looking after it:
Usage
The frequency in which you use your solar panel battery to store electricity will affect how long it will last. If it's been regularly used then it's likely that the battery will lose efficiency over a shorter period of time. This is also why the DoD is so important.
Temperature
Keeping your solar panel battery at an optimal temperature will affect its efficiency. You want to make sure that the battery is neither overheating or too cold. Your solar panel battery installer will usually recommend where you should have it installed to maximise its lifespan.
Maintenance
Regular annual maintenance is critical for making sure your solar panel battery is working well and as efficiently as possible. It can cost a little more, but it's worth it for extending your solar panel battery's life.
How Much Does a Solar Panel Battery Cost?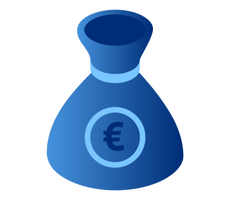 A solar panel battery can be an expensive extra to add onto your solar panel investment. Wherever you look, it's likely to set you back another €1,500 to €4,000 to make sure you have storage for your excess solar electricity. You should definitely factor it into your costs before you start the installation.
What Factors Affect the Solar Panel Battery Cost?
There's quite a bit of difference between €1,500 to €4,000 so there are many factors that will affect your final price when you buy a solar panel battery. You should consider each of these aspects so you can get the best price without sacrificing too much:
Capacity
The capacity of your solar panel battery will most likely be the biggest factor in determining the final cost. You should make sure you get the capacity your house and family might need in order to match your usage. You don't want to get too big a battery since you might not use all that extra capacity.
Warranty
Intuitively, the longer the warranty on your solar panel battery, the more expensive it will be. Solar panel battery warranties can usually last up to 10 years based on the number of charging cycles you have. If you know you're going to look after your solar power battery well, it might be worth having a shorter warranty to save money.
Battery Type
As stated above, your solar battery type will not only affect its longevity but also its cost. The cheapest solar power batteries will typically be lead acid ones as lithium-ion can be a little more expensive. However, lithium-ion batteries are starting to come down in price!
Maintenance Cost
Maintenance will be a long-term ongoing cost for your solar power battery over time. You want to perform maintenance on your battery every year to make sure everything is working properly and so boost its lifespan.
Read More in Our Solar Panel Costs Guide!
What Are the Pros and Cons of a Solar Panel Battery?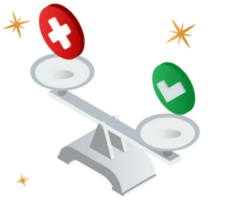 Overall, there are lots of advantages and disadvantages of getting a solar panel battery. If you're considering having solar panels installed, you should definitely consider having a solar panel battery to go with it and factor its costs into your calculations. Here's a quick breakdown of the advantages and disadvantages of a solar panel battery:
Advantages of a Solar Panel Battery
Better for the Environment
Having a solar power battery means you'll be able to take even more advantage of reducing your carbon footprint. Solar panel batteries will also ensure you don't have to rely on the grid as much and therefore reduce your non-renewable energy consumption.


Less Wasted Power
With a solar power battery, you will be able to maximise your solar panels by being able to store the excess energy for later. This is important since you won't let as much renewable electricity go to waste.


Less Reliance on Energy Suppliers
A solar panel battery will also reduce the amount of energy you use from your energy supplier. While meaning you won't go off the national grid completely, you can still use the solar panel battery to reduce your electricity bills massively.


Backup Against Power Cuts
Not needing to worry in the event of a blackout is another big plus to having a solar panel battery. Since you'll have the excess electricity stored in your solar panel battery, the power will start flowing from here in the case that you have a power cut in your area.
Disadvantages of a Solar Panel Battery
High Costs
The high upfront costs to a solar panel battery is the greatest barrier to having one installed. You should really consider if you really want one or you can make do with just the solar panels. In any event, you should still include a solar panel battery as part of your original costs.


Tricky Installations
Especially DC-coupled solar panel batteries, you might find that it's trickier to install than originally planned. This can be a pain since you don't always know what you might need to move around in order to install the battery.


No SEAI Grant Available
Although you can get an SEAI grant for photovoltaic solar panels, there's no such option for a solar power battery meaning you'll most likely need to fund the battery yourself. However, you can always use what the grant gives you back to discount the price of a solar panel battery.
Find out more about our offers from energy, broadband and waste collection providers!