Steps to Buying a House in Ireland: A thorough guide
Buying a house in Ireland is a big undertaking. For most people, it may even be something you only do once in your life, so you want to make sure you do things right! Our guide to buying a house in Ireland simplifies the entire process and lists down all the steps required to own your home.
Process of Buying A House In Ireland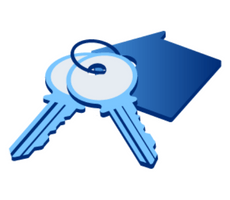 To simplify the entire process we have divided the steps to buying a house in Ireland into the following three categories:
Did you know? You do not have to be an Irish citizen to buy a house in Ireland, anyone in the world can purchase a property. However, owning a house does not give you the right to live in the country.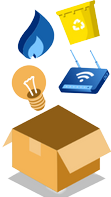 Moving house? Set up all your utilties at once!

Set up your energy, broadband and waste in one hassle-free call!

Ad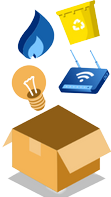 Sorry, we're closed right now!

We're currently closed but please leave us your number and we'll give you a free callback as soon as we'open!

Ad
Steps to Follow Before You Buy a House in Ireland
There are a lot of factors to consider when buying a home. We list below some of the most important factors you should consider before buying:
Make a budget.

Before even looking to buy a home, you should determine how much you can afford. There are obvious monthly costs like a mortgage, management fees, utilities, etc. But you also need to save sufficient funds to cover some of the initial costs of buying a house in Ireland, these are:

The deposit. You will need to pay for at least 10% of the purchase price of your home, sometimes more.
Insurance. There are two types of insurance you will most likely need when buying a property in Ireland, home insurance and mortgage protection insurance. In some cases, you may be able to place both under one single insurance policy.
Stamp duty. This is a mandatory tax to pay which is based on your purchase price. You will need to pay a 1% tax for the first €1,000,000 of the property, and 2% tax for any amount above this (if applicable). Check out our Stamp Duty guide to find out more!
Local property tax. All homeowners in Ireland need to pay this tax as well, regardless if you live in the residence or if you plan to rent the property.
Moving costs. Often overlooked, the cost of moving homes also needs to be taken into account. Don't forget that if you are moving into a larger property or if this is your first home, you will also have many costs associated with furnishing the home.

Choose a solicitor.

A good legal representative is necessary when buying a house in Ireland. Consequently, you should take the time to shop around for a solicitor. Prices can vary greatly as some will have a fixed price for the service and others will charge for every service imaginable like phone calls, postage, etc. According to the Competition and Consumer Protection Commission, you can estimate the legal fees for buying a house between €2,500 – €5,000. You can also consult the Legal Services Regulatory Authority to know what you should expect in terms of legal fees for buying a house.

Get a mortgage.

Unless you have received a large inheritance, not many people can buy a house without getting a mortgage. A mortgage is essentially a bank loan in exchange for the value of the home you want to purchase. In other words, if you are unable to pay back the loan, your bank will take the home from you in order to be repaid. Be sure to not buy more than you can afford, use a mortgage calculator to determine what is a safe cushion for you.

Find a home to purchase.

This can either be the most fun part of buying a house or the most frustrating! Nothing beats the thrill of unearthing the perfect home and dreaming of what could be while exploring different properties. However, the disappointments of not finding the right property or missing out on the home you finally found can be demoralising. There are tons of websites to help you find the right property or use the services of a real estate agent to make the process of buying a house a little easier for yourself. Some buyers' agents charge a fixed rate which can range from €999 to €3,500. Other agencies will charge a percentage of the final sale price which can range from 1% to 2.5%.

Having a vague idea of your preferences ahead of time, a new-build home, a log cabin, or a tiny house, will make this part of the process more efficient.

Complete a property survey.

Contrary to other costs of buying a house in Ireland, this is not a mandatory one. However, it is definitely worth including this step to have peace of mind, especially when you consider the relatively low cost of the service in comparison to what the costs could be should there be any defects in the home you are looking to buy. Property Health Check estimates a property survey can cost close to €464 for a flat and €520 for a house evaluation.
Questions To Ask When Buying A House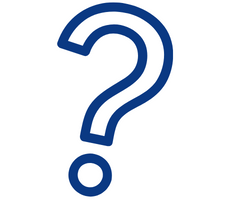 There are various questions to ask when buying a house before you make an offer. Some of the more common but important questions to ask are as follows:
Why is the house on the market?

Although this may sound like an intrusive question, it can shed some light on the owner's motivation to sell. Note that people are under no obligation to provide this information, so don't be alarmed if you receive a polite non-answer to the question.

How long have the owners lived here and what is the area like?

People who have lived at a property for a short period of time can potentially indicate an underlying problem. This could be anything from noisy neighbours or problems with the home itself (ineffective heating system, high utility bills, or structural deficiencies).

When are the owners planning to vacate the property?

This is another question which will help you measure the seller's motivation level to sell the property. If they already have another property lined up to move into, they may be quite keen on selling quickly.

How old is the property and has there been any renovations completed?

People underestimate how costly an energy-inefficient home can be, especially with the spiralling cost of energy these days. Knowing how old the property is will give you an idea of any upcoming needed renovations or not. Be sure to ask for the BER rating certificate, every property on the housing market in Ireland needs to have one.

How long has the home been on the market and what are the current offers?

A property that has been on the market for a long time may give you room to manoeuvre for a lower price. You will want to be careful though, as one needs to wonder why it hasn't sold yet? Is there an underlying problem you aren't aware of? Asking for the current offers will give you a better understanding of the level of interest.

What is and isn't included in the sale?

It's always good to know exactly what you are buying. Asking will let you know what land, building(s), and contents are included in the sale.
Better safe than sorry! Before entering into a binding purchase contract, it is wise to complete a property survey. Although an extra expense, it is a much lower cost than discovering defaults in the property after moving in!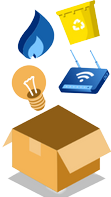 Moving house? Set up all your utilties at once!

Set up your energy, broadband and waste in one hassle-free call!

Ad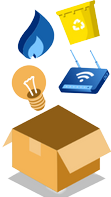 Sorry, we're closed right now!

We're currently closed but please leave us your number and we'll give you a free callback as soon as we'open!

Ad
Steps to Follow When Making a Purchase Offer in Ireland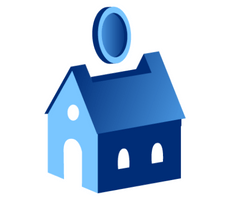 You have made your budget, you have chosen a solicitor, you have your pre-approved mortgage in hand, and your agent has found you the perfect home. It is finally time to make the purchase! Here are some tips to follow when buying a house:
Set a price cap.

Before making an offer, set yourself a maximum price you are willing to pay for the property and respect it. It is easy to get caught up in the excitement of the negotiation process and pay more than you were initially willing to pay.

Research house prices.

The Property Price Register in Ireland is a great tool to use before making an offer as well. The register allows you to see the history of the property you are about to buy, as well as the selling prices of other properties in the area. A great tool to give you an indication of what you should be paying for the home.

Factor in renovation costs.

What condition is the house you are buying in? If you need to spend money to make renovations, you will want to factor this into your purchase offer. Renovations are often used as a negotiation tool. For example, the seller gets the price they are requesting but agrees to fix the attic insulation to get the said price. Or, in reverse, the buyer gets their price but will handle the renovations themselves.
Tips to Follow When Closing a House Sale in Ireland
Once you have done your research on house prices in the area and have set your price cap, you are now ready to provide your offer. Here are the steps you will need to follow in order to close the sale:
Agree on a purchase price.

The first obvious step is to agree with the seller on a purchase price and its inclusions (land, building(s), and other contents if applicable).

Pay a booking deposit.

If you are dealing with a real estate agent, it is likely you need to pay a deposit. Often the legal process of the sale will not begin until the agent has received the deposit.

Sign the contract for sale.

Have your solicitor review the contract before you sign the deed. Once signed by both parties, you are legally bound to the contract.

Requisition on titles.

At this stage, both your solicitor and the sellers' will do their homework. Namely, ensure there is nothing unusual about the home like outstanding debts on the property.

Payment.

Once both solicitors are happy with the documentation you will receive the Deed of Conveyance. This is when the final payment is required, show this document to the financial institution who approved your mortgage so they may transfer the balance of the funds over.

Stamp duty and final closing date.

Another date and time will be set once more by both solicitors where you will receive your house keys. Don't forget you also need to pay the 1% stamp duty, your solicitor will be asking you for this payment at this time. Voila! You are done buying a house in Ireland, congratulations!
Did you know? Your booking deposit is fully refundable until you sign the contract for sale. At this point, you will lose your deposit should you have a change of heart.
Steps to Follow After a House Purchase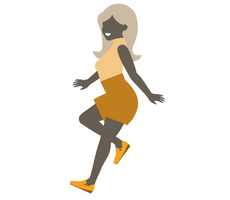 You finally have your keys in hand, walking out of the solicitor's office, and are ready to celebrate - but wait! Before you pop the champagne, however, there are still a few steps to complete. Once again, these are just added to the costs of buying a house in Ireland!
Luckily this time, it is just one last step to complete! You must register your property deeds via the Property Registration Authority (PRA). The legal fees for registering a house can range according to the value of the property, expect it to be anywhere from €400 to €800.
It is important to note that there are two separate systems to record the purchase of the house, these are:
Land Registry, or registration of title system.
Registry of Deeds system
You should ask your solicitor which of the two systems your case pertains to.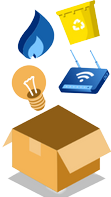 Moving house? Set up all your utilties at once!

Set up your energy, broadband and waste in one hassle-free call!

Ad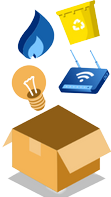 Sorry, we're closed right now!

We're currently closed but please leave us your number and we'll give you a free callback as soon as we'open!

Ad
Now you can finally break out the champagne! Oh wait - you of course need to change the locks of your home, do the actual move, furnish the place, pay your local property tax - ugh! The costs and fees when buying a house seem just to be infinite!
If you are looking for financial relief and assistance when buying a house, have a look at some of the government schemes available such as the rent-to-buy programme, help-to-buy schemes, or even some of the generous SEAI grants for home renovations. Otherwise, feel free to peruse our other tips related to buying a home in Ireland below.