Top 5 Student Costs in Ireland and How To Reduce Them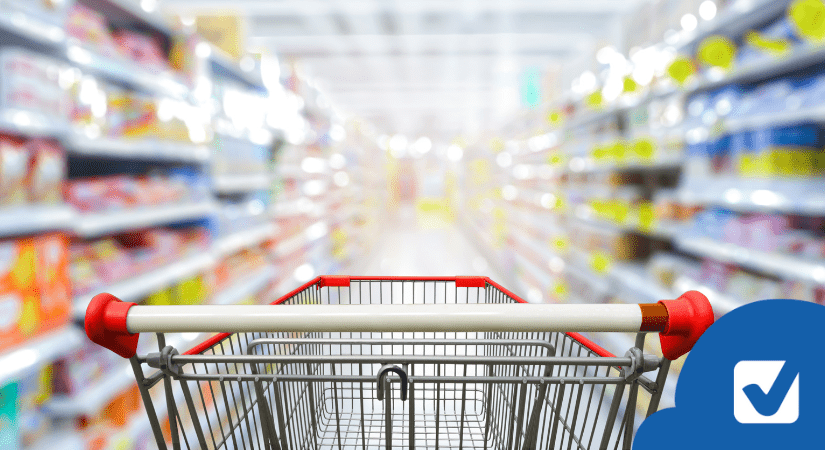 With university season approaching fast, the age-old question of how much being a student will cost you once again raises its head. Especially if you're a new student or coming from overseas, knowing exactly what you'll be expected to pay in 2022 as a student is very important so you can budget accordingly. Here's our guide to the top 5 student costs you can expect and how to reduce them!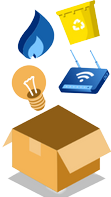 Moving house? Set up all your utilties at once!

Set up your energy, broadband and waste in one hassle-free call!

Ad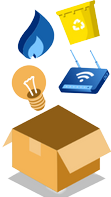 Sorry, we're closed right now!

We're currently closed but please leave us your number and we'll give you a free callback as soon as we'open!

Ad
Is It Expensive To Be a Student in Ireland?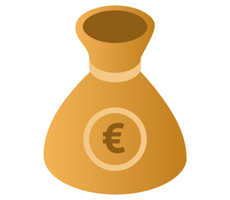 Despite the amazing opportunities on offer and beautiful countryside, Ireland is unfortunately a very expensive country to be a student in. According to Education in Ireland, you're likely to pay between €10,000 and €16,000 per year [1]. Given that you'll need to stay at your university accommodation for most of the year, it's likely you'll be paying around €1,000 to €1,600 a month for all your essential costs!
What Will My Monthly Outgoings Look Like?
All in all, your monthly outgoings are going to be in the range of €1,000 to €1,600. This figure doesn't include your tuition fees which are mostly covered by the state under the Free Fees Initiative [2]. However, it does account for all your bills, socialising, transport and food costs that you'll need to pay for yourself! Here's a breakdown of what you can expect to be in your budget:
Based on the data in 'Cost of college for student away from home' article in The Independent [3].
Last updated: 07/09/2022.
How Much Does Accomodation Cost in Ireland?
Due to the housing crisis in Ireland, the costs of accommodation and renting a house or flat are sky-high at the moment. Your accommodation costs are going to be the biggest part of your spending every month (and the most difficult to change!) so you need to find exactly what you need straight off.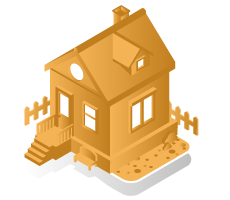 What Are Rent Prices Like in Ireland?
Mainstream rent prices in Ireland are currently some of the highest in Europe. With the housing crisis raging away, it's getting much more expensive with the average standardised rent reaching €1,460 a month according to the Residential Tenancy Board (RTB)! [4] Here's a graph will the comparing rent prices between national levels and Dublin:
Data based on the Standardised Average Rent 2007-2022 [5] provided by the Housing Agency.
Last Updated: 07/09/2022.
How Much Is Student Accommodation?
The good news is that, as a student, you can avoid most of the mainstream rental costs by getting yourself into student accommodation. Although the prices are still high due to oversubscription, student digs are often much cheaper than the average prices you'll find on the market. But it all depends on where you're going to study and what type of accommodation you're looking for.
| Student Accommodation Type | Dublin* | Outside Dublin** |
| --- | --- | --- |
| Shared Room | €600 | €400 |
| Private Room in Shared Flat | €1,000 | €850 or more |
| Private Apartment | Up to €1,679 | Up to €1,000 |
*Dublin figures based on data from June 2021 [6] in Dublin.ie.
**Outside Dublin figures based on Cost of Living for Students [7] in Internationalstudents.ie.
Last updated: 07/09/2022.


Save On Your Moving In Costs!
Get up to 60% off all your home lighting needs!
How Can I Reduce My Accommodation Costs?
Reducing your accommodation costs is a tough one since it's usually the largest one in your budget and it's not easy to change after you've signed the lease agreement. The trick is to know what your needs are before you decide.
Also, the location of where you're renting will also vary the price you pay since students renting in Dublin don't pay the same price as those renting in Cork! If you're studying in Dublin, you should look to see whether staying in the city or outside of the city and spending more on a commute would be cheaper.
House sharing can save you a lot of money! House sharing is the best way you can save money on the bigger costs as a student. If you're sharing your flat with a few other people, you can spread out the costs of bills and rent and give you better access to nicer places to live.

Check Out Our House Sharing Guide!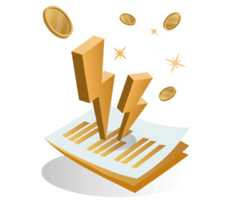 What Are Household Bills Like in Ireland?
We all know that household bills are going up. With the inflation rate at 9.6%, the biggest driver of the price rises is coming from utility bills with its own rate of 26.3% [8] and as the energy crisis worsens it's only looking to increase! However, keep in mind you can lock in your prices for your energy, broadband and waste bills so you can avoid them increasing too much!
What Is the Average Utility Bill in Ireland?
The average monthly utility bill is always difficult to calculate since the amount you pay will depend on your household size and your usage. However, overall the average utility bill you can expect each month in Ireland is around €400. This includes the following:
| Utility | Average Monthly Bill |
| --- | --- |
| Electricity* | €179 |
| Gas* | €152 |
| Broadband** | €35 |
| Water*** | €15 |
| Waste Collection**** | €20 |
*Electricity and gas cost based on the annual average of a standard tariff in Ireland [9].
**Broadband price based on first 12 months price offered by most providers for 500mbps speeds.
***Water bill based on annual average bill of €185 [10].
****Waste collection bill based on standard cost for a 2-5 member household.
Last updated: 07/09/2022.
Besides the basic utilities in the table above, you will need to keep in mind that there are other costs that you'll need to pay out monthly. These include things like your mobile phone contract and your TV licence which costs €13.33 a month [11].
How Can I Reduce My Household Bills?
Reducing your household bills isn't that easy and given the state of the energy market it's getting harder to find the best deals. If you're concerned about how to get the best deal for you, you could call up a utilities advisor to give you the best advice on what you should do.
Unfortunately for students, there are no discounts or special tariffs offered to students for energy, broadband, waste or water. However, the government have offered a one-off payment of €200 for each household [12] in order to make the costs more manageable. You can also consider house sharing as a solution to split the costs up.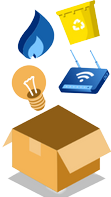 Moving house? Set up all your utilties at once!

Set up your energy, broadband and waste in one hassle-free call!

Ad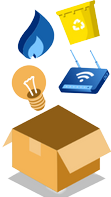 Sorry, we're closed right now!

We're currently closed but please leave us your number and we'll give you a free callback as soon as we'open!

Ad
How Much Does it Cost To Travel?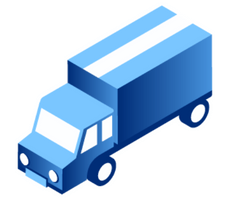 Knowing your transport costs in Ireland is vital for getting around at as low a cost as possible. Unfortunately, Ireland has some of the most expensive transport in the world, however there are cheaper options available so you consider student-specific travel discounts.
How Much Is Public Transport?
For a standard public transport card in Dublin - also called a Leap Card [13] - you will pay a certain amount depending on how many trips you want to make. With the Leap Card you have access to the trains, buses and coaches by topping it up with the amount of journeys you want to make. The Leap Card requires a €5 deposit.
How Can I Reduce Transport Costs
As a student, you easily have access to much cheaper transport than the rest of the population. You are able to get special student-only Leap Cards that give you a discounted rate compared to everyone else.
Young Adults Travel Card
If you're a student between the ages of 19-23 you can apply for the Young Adult travel card which can give you 50% off of your travelling costs.
Student Leap Card
For those who are 24 and over who are in full time education you can apply for a Student Leap Card which gives you the same benefits!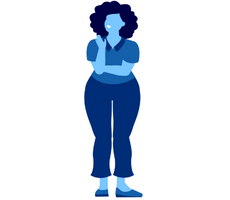 Is It Expensive To Socialise in Ireland?
Socialising is a big part of your time as a student and you want to be able to enjoy your time with your friends on the weekend and after lectures. Unfortunately, socialising has also become a victim of inflation and drinks, restaurants, cinemas and music concerts are only getting more expensive!
Pubs and Bars
If you're thinking about heading out for a pint after your studies, you can expect to pay around €5.20 for a pint of Guinness and €5.50 for a pint of lager [14]. If you're in Dublin you can expect to add an extra euro onto these prices [15].
Going to a Club
Getting into a nightclub can be free or it can cost from around €5 to €10 depending on the place and the area. For drinks you can expect to pay around €15 to €25.
How Can I Save on Socialising?
Saving on socialising can be difficult since everyone will make friends in their own way and will know how much on what to spend. However, student discounts exist across the board that can make your social life a lot cheaper. One of the most important ways of buying an International Student Identity Card (ISIC) [16].
What is an International Student Identity Card (ISIC) A International Student Identity Card (ISIC) is a card that is recognised in over 100 countries where you can use it to get a student discount. It costs only €10 to buy and you'll receive it in the post with the name of your institution on it. Always ask if there's a student discount available so you can make the most savings on your bill.
What Will My Food Bill Look Like?
Food is an expense that's often forgotten about but doing a weekly shop is part and parcel of adult life. In Ireland, the food inflation has reached 7.7% which is actually considerably lower than over Eurozone countries [17]. All the same, it's best to make savings where possible and you should really buy what you think you'll need for the week!
What Is the Average Student Shopping Basket?
Your average student shopping basket should have all your necessities for a student fridge, freezer and cupboard. Here's a quick overview of how much some of the more common foodstuffs cost in Ireland:
Average Food Costs in Ireland

| Food | Costs |
| --- | --- |
| Milk | €1.11 per litre |
| Loaf of Bread | €1.63 per 500g |
| Rice | €1.35 per kg |
| Pasta | €3.25 per kg |
| Eggs | €2.90 for 12 |
| Cheese | €7.52 per kg |
| Chicken Fillets | €4.24 per 500g |
| Apple | €2.34 per kg |
| Banana | €1.69 per kg |
| Tomatoes | €2.62 per kg |
| Potatoes | €1.58 per kg |
| Onions | €1.13 per kg |
| Beer | €2.70 for half a litre |
Based on the national average food prices for 2022 from Numbero [18].
Last updated: 07/09/2022.
How Can Reduce My Shopping Costs?
The best way to save on food is to look for the cheapest options available. Most supermarkets will have their own brands of pasta, rice, sauces and lots of other foodstuffs that are usually much cheaper than other independent brands so you should concentrate your budget on those. You should also use your student discount when you can to get cheaper offers. You can also save by sharing out the shopping costs with your housemates!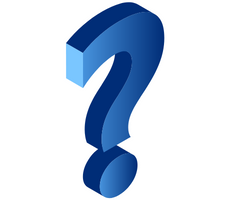 Are There Any Grants or Schemes To Help with Costs?
Fortunately, there are grants and schemes available for students who are struggling with their living costs. Even though tuition fees are often covered by the state, people will also struggle with the cost of living and so there is help on hand for you to use.
What Is the Student Grants Scheme?
You will be able to receive a means-tested maintenance grant from the government to help with the cost of living as a student. This means you will usually receive a certain amount depending on your family's financial situation, with those worse off receiving more from their grant. In general, the maintenance grant can be either:
Maintenance Grants for Students

| Type | Near Institution (less than 30k) | Far from Institution (more than 30k) |
| --- | --- | --- |
| Full Grant | €3,225 | €1,415 |
| 75% Grant | €2,470 | €1,110 |
| 50% Grant | €1,715 | €805 |
| 25% Grant | €955 | €505 |
Source: based on the figures from Citizens Information for the academic year 2022-23 [19].
Last updated: 07/09/2022.
What About Erasmus+ Grants?
If you're an EU student moving to Ireland to study, you will be able to access some grants and schemes from the Erasmus+ programme [20]. If you're doing your studies through Erasmus, you can often get help such as with tuition fees and costs of living.
Find out more about our offers from energy, broadband and waste collection providers!
References
[1] https://www.educationinireland.com/en/living-in-ireland/before-arrival/living-costs (Date Accessed: 07/09/2022)
[2] https://www.citizensinformation.ie/en/education/third_level_education/fees_and_supports_for_third_level_education/fees.html (Date Accessed: 07/09/2022)
[3] https://www.independent.ie/irish-news/education/revealed-cost-of-college-for-student-away-from-home-rises-to-average-13305-a-year-41797837.html (Date Accessed: 07/09/2022)
[4] https://www.rtb.ie/news/rtb-publishes-q1-2022-rent-index (Date Accessed: 07/09/2022)
[5] https://www.housingagency.ie/data-hub/rent (Date Accessed: 07/09/2022)
[6] https://dublin.ie/study/student-life/finding-student-accommodation/ (Date Accessed: 07/09/2022)
[7] https://www.internationalstudents.ie/info-and-advice/practical-information/cost-of-living (Date Accessed: 07/09/2022)
[8] https://www.ecb.europa.eu/stats/macroeconomic_and_sectoral/hicp/html/index.en.html (Date Accessed: 07/09/2022)
[9] https://switcher.ie/gas-electricity/guides/energy-bills/what-is-the-average-gas-and-electricity-bill-in-ireland/ (Date Accessed: 07/09/2022)
[10] https://www.moneyguideireland.com/water-charges-2017-new-rules.html (Date Accessed: 07/09/2022)
[11] https://www.tvlicence.ie/home/tv-licence-home.html (Date Accessed: 07/09/2022)
[12] https://www.citizensinformation.ie/en/consumer/utilities/electricity_account_credit.html (Date Accessed: 07/09/2022)
[13] https://about.leapcard.ie/young-adult-and-student-card-launch (Date Accessed: 07/09/2022)
[14] https://www.irishmirror.ie/irish-news/pub-update-how-much-you-26134010 (Date Accessed: 07/09/2022)
[15] https://spoketravel.com/drink-prices-in-dublin (Date Accessed: 07/09/2022)
[16] https://www.isic.ie/ (Date Accessed: 07/09/2022)
[17] https://www.ecb.europa.eu/stats/macroeconomic_and_sectoral/hicp/html/index.en.html (Date Accessed: 07/09/2022)
[18] https://www.numbeo.com/cost-of-living/country_result.jsp?country=Ireland (Date Accessed: 07/09/2022)
[19] https://www.citizensinformation.ie/en/education/third_level_education/fees_and_supports_for_third_level_education/maintenance_grant_schemes_for_students_on_third_level_courses.html (Date Accessed: 07/09/2022)
[20] https://www.citizensinformation.ie/en/education/european_education_programmes/eramus_plus.html (Date Accessed: 07/09/2022)