The Housing Crisis Ireland 2021: fact or fiction?

It seems like the housing crisis in Ireland has become common enough as to seem a permanent feature of living in Irish society. What exactly is the housing crisis, are we really still in one, and how does it affect prospective renters? Read on and find out.
---
---
What is a housing crisis?
A housing crisis occurs when the cost of housing, be it renting or buying, becomes higher than the income reasonably deemed adequate to meet it. In short, affordable housing becomes a rarity.
---
Is there a current housing crisis in Ireland?
A quick look at Daft.ie would appear to prove so, at least for rentals. In County Dublin, there are just 457 houses to rent, and the cheapest start at €1297 a month for a one-bed. For a county with a population of over 1.9 million people, those are shocking numbers.
Extend the search to any residential property, and the numbers jump to 1,433 properties available. Of the cheaper options, which can only be generously termed studio apartments, they are all on the outskirts of the Greater Dublin area and come in at €150 a week.
That sounds great, in theory, but the vast majority are student accommodation. For any families seeking accommodation, who will need at least two rooms, the numbers jump up fast to €1160 a month.
The average price for renting a property in Dublin between April to June in 2019 rose to €1,202 a month, up from €1,123 in 2018, an increase of €114 a month or €1,368 a year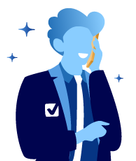 Selectra can help you find the best energy offer for your home.
Save money for what's important. Don't overspend on Energy.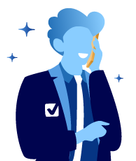 Save money on your energy bills with Selectra.
Selectra is currently closed. You can leave your phone number and get a free callback.
The housing crisis in Cork
Skip down to County Cork, one of the worst affected places, and shockingly there are only 246 properties available to rent, in a county which houses over half a million people. It goes without saying that another housing crisis is here and in full swing.
A picture from twitter user Tom Redmond shows a depressingly long queue to view a house in Cork city.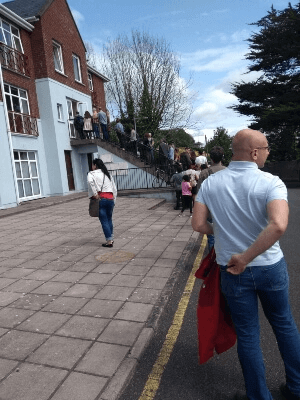 ---
Who is at fault for the housing crisis?
The current Irish housing crisis is mainly a rental crisis and is not just limited to Dublin. It has extended its shadow over the whole country, particularly in larger towns and cities. Indeed Cork is deemed more badly affected than Dublin at the present time. Critics have assigned the blame to the government for failing to protect renters.
The Irish government and the housing crisis
It seems that the government does carry a large share of the responsibility for the current housing issues, given that there have been several housing crises and affordable housing remains a perennial issue in Ireland.
One has to then question why the government has not stepped in and acted to put legislation in place to prevent the housing crisis from spiralling out of control. Even the Internet giant Google, which employs 8,000 people for its Dublin headquarters, has offered to step in and subsidize local housing.
Google's offer appears to be genuine, as they have already spent in the region of $1 billion on community housing in San Francisco, home to another Google office.
The Irish government has also stated that in the most optimistic scenario, the housing crisis will continue to worsen until at least 2022.
To add salt to fresh wounds, a report by the Guardian in late 2018 claims there are 30,000 empty homes just in the Greater Dublin area, the majority of which are owned by local councils. It's not that there are not enough homes - it's that they are overpriced, or not being made available, artificially inflating prices.
Housing Crisis Ireland Aggravating factors
Irish renters and prospective homeowners face the triple quandary of houses that are too expensive to buy, stricter mortgage concession terms generated by the previous financial crisis, and properties that are too expensive to rent.
The availability of rental property has been further exacerbated by holiday rental companies such as Airbnb.
Many landlords prefer to use properties for holiday rentals or short term lets due to the higher income the properties can then generate. Nearly twelve years after the housing bubble (which had caused another housing crisis) collapsed and prices fell and then rose again, there is still no proposed solution in sight for the current predicament of renters.
Worryingly, the situation is not just being felt by prospective homeowners and renters, but also those dependent on social housing. An insufficient public housing system will detrimentally affect those who are homeless or at risk of being homeless.
In July 2019 the number of homeless people across Ireland was estimated at 10,275, a sobering statistic and nearly triple 2015 numbers. Research by Focus Ireland shows that the majority of homeless families previously depended on the private rental sector for housing.
---
How can I find a property to rent during the housing crisis?
For prospective renters, the most important advice is to check all the major rental websites frequently (Daft.ie, Rent.ie, MyHome.ie, Property.ie).
While many available properties will be listed on all sites, some won't. On some of the websites, you can also register for an account and set up alerts to let you know when suitable properties have been added.
Check first thing in the morning. Adverts are also often published around lunchtime and in the evening. Call immediately, don't put it off, and arrange a viewing as soon as you can. Keep an eye out while out and about for posters advertising rooms, and check local papers.
Properties are also more likely to be advertised at the very start of the month and the very end.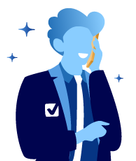 Moving? Selectra can help you set up your energy & broadband.
Our specialists will help you pick the right plan for your new home.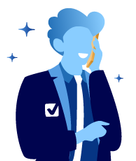 Save money on your energy bills with Selectra.
Selectra is currently closed. You can leave your phone number and get a free callback.
Additional hints and tips on finding a place to rent
Have a clear idea of what you want. Which areas would suit you for work or schools, what your budget is, how much of a deposit you can afford, furnished or unfurnished etc.
Have any relevant paperwork such as copies of ID, payslips etc. prepared and ready to go in a folder that you can bring with you at all times. Alternatively, keep one set of papers at work and another at home so you can quickly go from either place to a viewing.
Haggle but don't be too insistent, and only if you feel the situation warrants it. Unfortunately for renters, at the moment it's very much a landlord's market.
Don't go into a transaction blind. Before heading to a viewing, whip out your smartphone and check average house prices for the area, news reports on the area, and nearby transport and facilities. Also, remember parking if you have a car.
Hang around a bit after a viewing and ask prospective neighbours about the pros and cons of the area.
Stay within budget. The general rule for housing is that you shouldn't spend more than 30% of your monthly income on it. Due to escalating prices you may have to budget for more, but establish limits. It makes no sense getting a nicer place if you can't afford to eat or travel to work.
Always visit a property and insist upon seeing inside it before agreeing to rent it. Pictures can be old or deceiving.
Know your rights as a renter and read contracts carefully. If you leave a deposit, demand a receipt.
Ask questions. Lots of questions. Don't leave anything up to chance and be wary if the person who is showing you the house is reluctant to answer your questions or acts cagey.
If you're going to be sharing an apartment, it's best to try and meet your new roommates beforehand. Also, make sure that you each have your own separate leases or you could be stuck with paying all the rent if anyone ups and leaves.
Offer to take a longer lease. Even in such a competitive environment, landlords still don't like the hassle of finding new tenants.
If you're paying extra for amenities, make sure you will use them.