How To Beat the High Cost of Living

It's no secret that the global energy crisis is having a ripple effect and raising the cost of living to unprecedented heights in Ireland. Rent, food, gas, electricity, and just about every other essential service or product have seen prices skyrocket in the last year. Read on and see what you can do to protect yourself and beat the rising cost of living.
What Is the Cost of Living in Ireland?
Here are a few interesting facts to keep in mind when looking at the cost of living in Ireland:
The cost of living for a single person per month is €918.50 and €3,245.10 for a family of four. This is without the cost of rent which sits at an average of €1,464 per month.
Ireland is the fourth-most expensive country to live in Europe. Only Switzerland, Luxembourg, and Jersey are more expensive.
We are the eighth-most expensive country to live in worldwide.
Ireland is more expensive to live in than 93% of the rest of the planet.
*According to Numbeo as of January 2023
When you consider the average net salary sits at €2,686.41, it means that a single person can barely make ends meet and a family of four can only survive if two or more family members work.
According to the CSO (Central Statistics Office of Ireland), inflation in December 2022 was at an unprecedented 8.2%, the highest it has been in 20 years. The same agency expects these inflation levels to be the same for another six to nine months.
8.2% may not sound like much, but when most are barely making ends meet already, it means the average single person will barely break even in 2022 (bringing monthly costs with rent to a little over €2,400).
Here are just a few recent quotes from the streets in Cork to give you an idea of how strapped for cash people are:
We are struggling but it's not just us, it is everybody. Unless you have a career I think you can't really survive off minimum wage jobs anymore.
The cost of living is gone beyond what a pensioner can afford now.
Why Is the Cost of Living Soaring?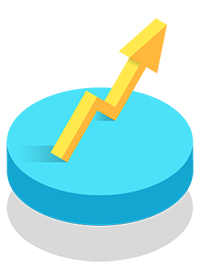 The bulk of this extraordinary inflation is due to the global energy crisis. When gas prices rise, just about every other aspect of our lives is affected, such as:
Transportation
Transportation of food
Transportation of goods and services
Electricity price rise (gas accounts for 35.8% of Ireland's electricity production) which in turn affects the following:

✔ Cost for shops to store food
✔ Cost of production of goods
It is normal for gas prices to fluctuate from year to year, but according to Bloomberg, natural gas prices have risen 225% in the last year from 2.72 to 6.13 USD. That is more than double the price in a single year.
Compound this with the surge in energy demand due to our increased use of electrical devices such as mobile phones, tablets, TVs, and EV vehicles. Need we say more as to why the cost of living is soaring?
How Can I Beat the High Cost of Living?
As this inflation rate appears to be here to stay, here are a few things you can do to help you beat this high cost of living:
While we wait for alternative energy sources that don't make us so dependent on gas, we hope these little tips can help you weather the storm.
Energy

Find a great new energy deal in one free call!

Our energy specialists can help you switch to a better energy plan in just a few minutes!

Ad

Energy

Sorry, we're closed right now!

We're currently closed but please leave us your number and we'll give you a free callback as soon as we'open!

Ad