Top 12 Electricity Gadgets & Energy Saving Devices

---
Welcome to our roundup of the best electricity gadgets and energy saving devices in Ireland. Encouraging energy efficient habits in your household will certainly bring your electricity bills and gas bills down, and these cool home electronic gadgets not only look stylish but will also help you save some cash in the long run.
In this post we share our recommendations for your household. For information on energy saving tips take a look at our guide on 101 ways to save money on your utility bills.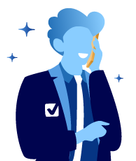 Energy bills too high? Selectra can help!
Call one of our energy specialists today to find out how much you could save.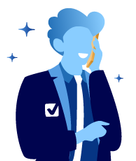 Save money on your energy bills with Selectra.
Selectra is currently closed. You can leave your phone number and get a free callback.
---
Owl monitor and other electricity monitors
All of these monitors work with Nightsaver tariffs but not all are suitable for homes with solar PV (photovoltaic) panels installed. The real benefit of energy efficient home electricity monitors in general is that by plugging appliances in or out or simply keeping an eye on the monitor when the dishwasher or dryer is on, you can get a more accurate idea of where the majority of your energy bill spend is coming from.
We've picked only the most highly rated energy monitors and you can view our selection below.
Owl micro plus electricity monitor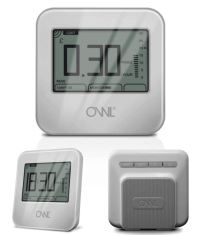 The Owl electricity monitor is one of the current market leaders when it comes to wireless home energy monitors, and for good reason.
The monitor features an easy to read at-a-glance LCD display and information displayed includes real time and all-time energy consumption, carbon emissions, and average consumption.
It works within a range of 30m from the electricity meter and refreshes every 12 seconds to give you the most up-to-date information. It's also compatible with the Owl Intuition system which allows you to monitor your usage via a pc, tablet or smartphone from any location. Prices start from €49.99.
Geo minim energy monitor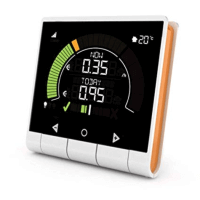 Featuring a snazzy black back-lit LCD display, the Geo Minim has been beautifully designed and is easy to use. It has also received the prestigious Which? Best Buy Award.
Its attractive LCD display shows current and past energy consumption, carbon emissions, and even room temperature. The Geo Minim is fast becoming on eof the more popular energy monitors on the market.
Like the Owl Micro Plus, it also has a rang of up to 30m distance from the electricity meter. Prices start from £39.95 (€45.62).
Loop energy saver monitor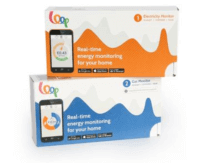 Unlike the previous monitors, the loop energy saver monitor has two different models for monitoring gas and electricity consumption. And if you buy them together, you can even save £10 (€11.42) off the total price.
In contrast with other monitors, the Loop Energy Saver Monitors don't come with a display, instead offering a free online service and App to monitor your energy usage, as well as a free lifetime subscription to the Loop Energy Saver Service.
Both the gas and electricity monitor are highly rated and prices start from £69.99 (€80.32) for both monitors or £49.99 (€57.37) for just the electricity one.
Eco Eye Smart PV Energy Monitor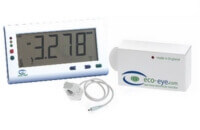 Unlike the previous monitors, the Eco Eye Smart PV Energy Monitor is specifically designed to work with Solar PV panels. It displays electricity (both electricity used and generated), and can also tell you the current import or export value of either electricity being drawn from the grid or fed back to it.
Rated 4 out of 5 stars on Amazon, its design may not be as eye catching at the Geo Minim or Owl, but customers seem to be very satisfied with it, despite the higher price tag of €94.02.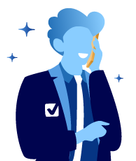 Could a smart meter help you save money on your energy bills?
Call one of our energy advisers to find out how much you could save.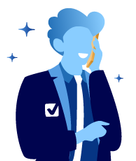 Save money on your energy bills with Selectra.
Selectra is currently closed. You can leave your phone number and get a free callback.
---
Kitchen gadgets
There is a wide range of gadgets available for the kitchen, but how many of them actually save us money? While time-saving gadgets are definitely an asset and contribute to our quality-of-life, we've focused on the best performing energy-saving gadgets for the kitchen.
Breville hotCup hot water dispenser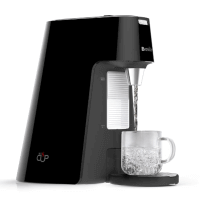 This glossy hot water dispenser looks like a premium coffee-maker and with a 4.3 out of 5 star rating on Amazon and over 3524 customer reviews, it certainly seems to provide a premium service. It has a fast boil 3kW element, produces boiling water within just a few seconds, and will dispense up to five cups without needing to be refilled, ensuring you only boil the water you need.
Boiling a full kettle up to five times when you're busy or distracted can use up €2 of electricity so we think the Breville HotCup will definitely earn its keep. Pricing for the 1.5 litre model starts from €53.20.
Instant pot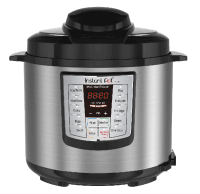 Pressure cooking food is a much faster and less energy intensive way of cooking, Instant pots are smart programmable pressure cookers that automatically regulate the temperature to maintain the pressure needed. Basically this means you can switch them on, dust off your hands and walk away until the alarm beeps to let you know your food is done.
The instant pot has become very popular in the few years it has been on the market, and some models, for example the Instant Pot Duo V2 7-in-1, also allow you to use them as a slow cooker, steamer, or even make yoghurt in them. Prices for the Instant Pot Duo V2 7-in-1 start from £99.99 (€114.35).
Samsung family hub smart fridge freezer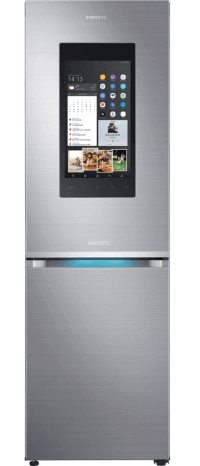 Your fridge and freezer are some of the most expensive appliances to run in your household, due to their size, and the fact that they are always on. Depending on their size, modern energy efficient appliances can use between 400-500 kWh per year, translating to an annual electricity bill amount of between €78 - €98.
Newer fridge-freezer models can retail for between €500- depending on the size, model, and energy efficiency rating. If you have an old inefficient fridge-freezer, we highly recommend upgrading as older models can use up to 1400 kWh per year, a whopping €274 worth of electricity.
Where the Samsung seeks to improve upon more modern efficient fridge-freezer models, is by reducing the amount of times the doors need to be both opened and left open, and also cutting down on food waste by tracking expiration dates for food.
Cameras inside the fridge snap images every time you open and close the door, transferring them to the large display on the outside of the door. This means you can check what ingredients you have without opening the door, and you can also check remotely, so if any doubts surface while shopping, the answer is only a short click away.
We're not sure that cost savings from not opening the door as much will compensate for the expensive price tag, at €2199, but if you have the cash to splash, it's attractive appearance as well as some of its other options such as Spotify connection, recipe channels and a fun digital noteboard, may sway you.
---
Home office gadgets
Working from home saves money as transport costs are reduced, but as many who do so can tell you, it's an expensive proposition when it comes to home energy bills. The difference between paying for electricity and heating just every evening and at the weekends, when compared to being at home 24/7, can result in greatly increased energy costs.
So why not try to lighten the load a little with one of our top-picks for home office gadgets?
Window solar charger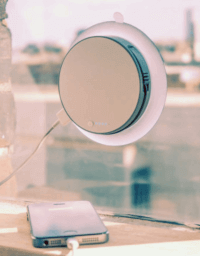 For those who either work from home or outside their home, particularly when their workspace is seated next to a window, consider buying a window solar charger.
There are several models available, all of which can be attached to a window via suction cups and used to charge mobile phones or small portable devices such as mp3 players or tablets.They tend to be sleek and modern in design, with some fun ranges in eye-popping colours
Chargers are very reasonably priced and can be found on Amazon for between €25 - €45, making this renewable energy charger both friendly for your pocket and the environment.
Logitech wireless solar powered keyboards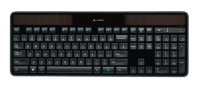 Many wireless keyboards recharge via USB cables that connect to either a PC or a charging adapter, and as such do increase the electricity drawn upon by those devices.
Logitech have come up with a lightweight keyboard with an attractive glossy black mini-solar panel area, that will hold a charge for up to three months in a darkened room. Prices start from €55 upwards and the keyboards come in black or silver.
---
Bathroom
Both energy and water can be wasted in the bathroom, especially water, so it's definitely worth taking a look at our pick of gadgets for saving energy in the bathroom.
The Waterpebble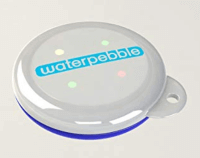 If you or any members of your household are guilty of taking overly long showers, this nifty little shower gadget will help out and is as cheap as chips. Priced at around €11.45, you simply place the Waterpebble near the drain in your shower and it will monitor the amount of water used.
The Waterpebble works by using a simple traffic light system to indicate how much time you've spent, and guides you towards shorter and shorter showers in small decrements. Considering the price and the fact that it conserves water and energy used for water heating, it's a bit of a no-brainer to add to your residential gadget arsenal.
Evolve showerhead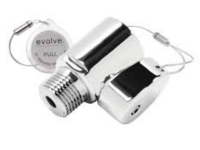 Not many of us have the luxury of having hot water on tap 24/7, and are guilty of leaving the shower on to heat up while getting on with the rest of our morning routine. The issue is that we often "miss" the point at which the water has become warm and end up flushing hot water and money down the drain, while we dither about getting into the shower or not.
Not to worry, the people at Evolve have come up with a solution: the Evolve Ladybug Showerhead Adapter, priced at €33.22. Cold water exits as usual, but when the water temperature reaches 35°C the flow is reduced to a trickle until you're ready to get in. When you get in you then simply pull on the cord, and full flow is resumed. This water saving adapter is a quick, easy and cheap way to improve your home energy efficiency.
Infrared panels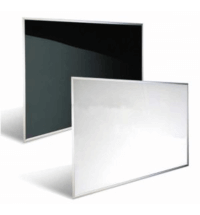 Nobody likes gingerly tip-toeing across icy bathroom tiles, but having the heating on in the bathroom also seems like a little bit of a waste. After all, we spend very little time there when compared to other rooms, such as the living room.
Enter Infrared Panels. They don't have to be connected up with any complicated piping or wiring as they can just be plugged in, and warm up a room pretty much instantly after being switched on.
Infrared panels also use over 50% less energy to produce the same amount of heat as convection heaters, and it doesn't hurt that their sleek modern highly-customizable designs are pretty easy on the eye as well. They are also more efficient than radiators at heating spaces evenly, are priced from €68 upwards, and will help you save on your heating costs.
For more information on ways to save energy with high efficiency heating systems, check out our guide on the best way to heat your home to discover our highly-rated energy solutions.