Electric Ireland Top Up
Electric Ireland is currently one of the biggest energy providers in Ireland. It comes as somewhat of a surprise that it offers PAYG as an opt-in option for customers, given that the majority of Irish energy suppliers have shied away from including a PAYG offer in their portfolio, except for as part of a debt repayment scheme.
By switching to Electric Ireland's SPAYG (Smarter PAYG), you not only get a snazzy In Home Monitor to keep an eye on your usage, if you're a new customer you'll also receive a €150 sign-up credit (€60 if you're an existing EI customer). Find out how to top up your Electric Ireland SPAYG meter online and through the app.
---
How do I top up my Electric Ireland pay as you go?
There are three options for topping up your Electric Ireland PAYG account:
Through Payzone
Online
Via text
If you experience any issues topping up, then your best bet is to contact Electric Ireland's customer service.
1. Payzone Electric Ireland top up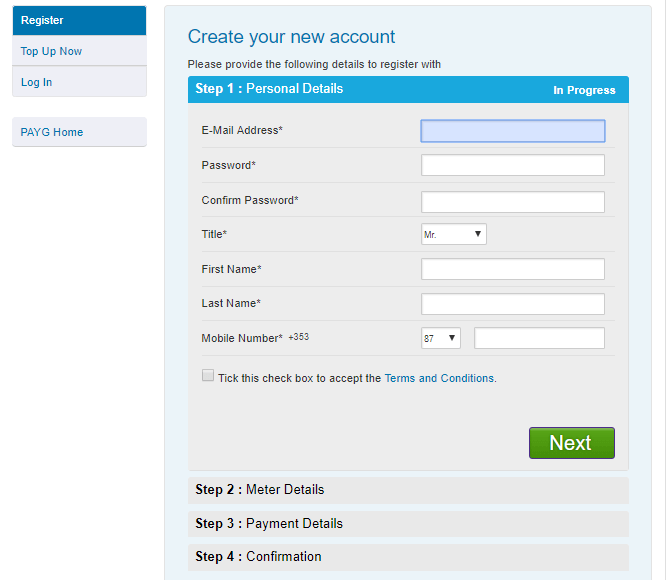 To top up your Electric Ireland account through Payzone, you can either pop out to any Payzone outlet or register for an online account and top up from the comfort of your own home.
If you're topping up at a Payzone outlet, bring one of your SPAYG top-up cards with you (you should have received two upon opening your SPAYG account with Electric Ireland). Simply hand the card over to the cashier, specify the top up amount (in multiples of €10), your card will be swiped, and your meter will automatically be topped up.
There is no need to keep your receipt, go home and enter in the code on it, as with other meters. However, we do advise that you retain your receipt until you have verified that your meter has been topped up.
2. How can I top up my smart meter online?
You can top up your SPAYG meter online by registering. Note that although you will be registering through Electric Ireland's registration portal, the transactions will actually be handled through Payzone.  One big advantage of registering online is that you can then also schedule top-ups. This would enable you to top up for the month on payday, for example.
Another advantage of registering is that you can set your meter to top up automatically when the balance hits a certain threshold, For example, you can set it to top your meter up every time the balance hits  cv. This option removes the hassle of worrying about your balance running low and getting disconnected, or running into emergency credit.
To register online, simply provide your personal details, meter details, and payment details. Note that you can only register an Irish mobile number, and it is a required field.
Electric Ireland once off top up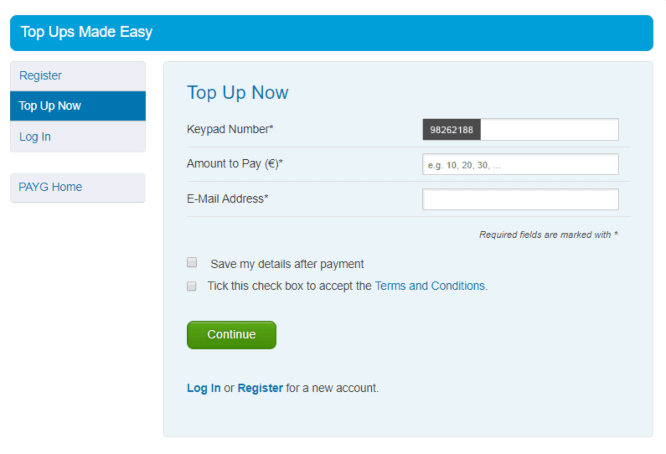 Electric Ireland also has a handy quick top-up option in the section labelled "Top Up Now". You can use this option without registering and you'll need a keypad number (the number on the front of your SPAYG card) and will have to provide an email address and the amount you wish to top up by (in multiples of ten).
You can also select the option for the browser to save your details, that way you won't have to re-enter your information every time you need to make a once-off top up.
We recommend that you take a picture of your SPAYG card or note down the number on it as soon as you get it. That way, if you misplace it you will still be able to top up while awaiting the replacement card.
3. Top up by text
If you have registered for an online account with Payzone, you can easily top up by texting "EI top up (amount to top up)" to 53314.
Can you top up electric without a card?
Yes. You can top up online, either by registering or performing a one-off top up, using your keypad number. This is the number that is usually on the front of the card but can also be found on your In Home Monitor. Choose the Settings/Info option on the monitor and you will find your keypad number (19 digits) under Payment Card ID.
---
Electric Ireland top up app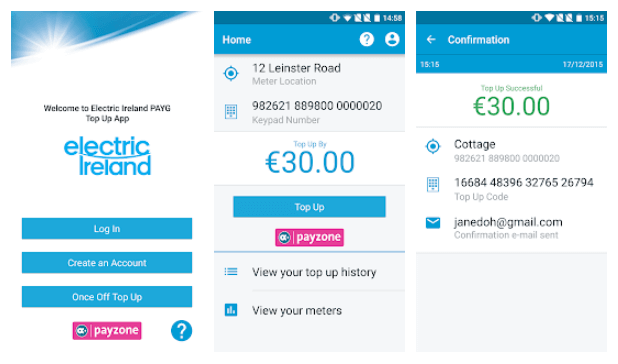 There is an Electric Ireland app specifically for topping up your SPAYG account. The app is available on both Android Market and the Apple Store. The app has the same functionality as the online Electric Ireland account and will allow you to keep track of your top-ups.
Once you have created an account, you'll be able to save your payment details, top up, schedule top-ups, and set automatic top-ups.
You can also make a once off top-up from the app without logging in. Unfortunately, as appears to be the case with the majority of electricity and gas provider apps in Ireland, the app is rated poorly and customers have reported many issues with topping up using it.
If you find this to be the case for you, then you can still recur to the Electric Ireland website and log in to your online account for all your topping-up needs.