Eirgrid: Dashboard, Renewable Energy & Grid Code

In this guide, we cover everything there is to know about Eirgrid plc; who they are, who owns them, and what they do. So read on and discover the latest Eirgrid news, and jobs, or just explore their smart grid dashboard, we have you covered!
---
Who Is Eirgrid?
Eirgrid is the electricity transmission network operator (TNO) in Ireland. It can get a bit confusing, as ESB Networks is the Distribution Network Operator (DNO).
Eirgrid was set up originally in 2000 to enable competition in the Irish power sector. It is regulated by the CRU, the regulatory body for the energy market and water. Following the deregulation of the market, they took over management of the transmission grid in 2006.
Who Owns Eirgrid?
The Eirgrid group is owned by the Irish government. Under ISEM, the Eirgrid Group also owns SONI (System Operator of Northern Ireland) and operates the all-island distribution network.
What Does Eirgrid Do?
EirGrid develops and operates the electricity grid for Ireland.
The grid safely brings power from generators to the ESB network that supplies every home, farm, community, and business in Ireland. It also brings power directly to large energy users.
What Is The Difference Between ESB Networks And Eirgrid?
Once the energy has been generated at a power plant, for example, its voltage is then increased (so less electricity is lost over distance) and it is moved to a substation along a network managed by the TNO (Transmission Network Operator) - in Ireland, this is Eirgrid. The transmission network transports the energy from its point of generation along transmission lines, which are much bigger cables and cable towers than the lines outside your house.
Once at the substation, the electricity is then passed through a transformer to reduce the voltage enough to the level required for safe residential use, and sent out on the distribution network (the lines you see on the street outside your house), run by the DNO, this is ESB Networks in Ireland. You then need to contact one of Ireland's twelve residential electricity suppliers to manage payment for your access to, and use of, the distribution network.
So in a nutshell, TNOs move energy from points of generation to substations, and DNOs (ESB Networks) move electricity from substations to near your home or other areas where it's needed.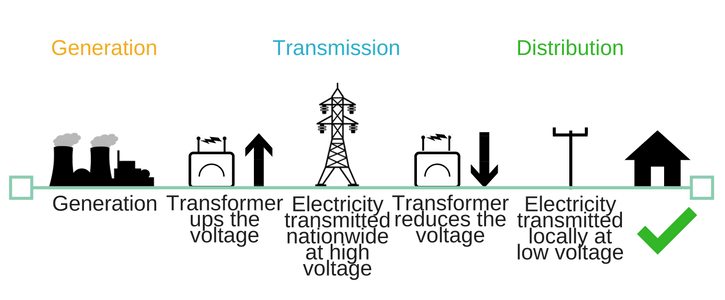 What Is The Eirgrid Dashboard?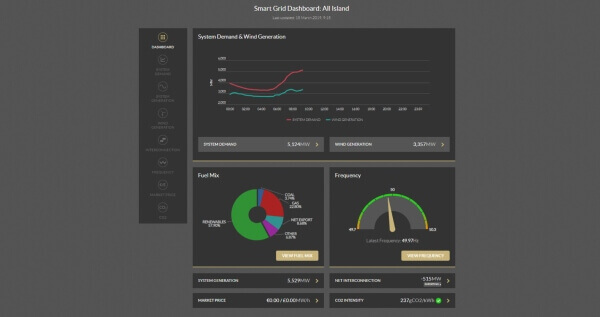 The Eirgrid dashboard is an online web app known as the 'Eirgrid Smart Grid Dashboard'. The dashboard allows users to see and compare all-island power system statistics and graphs, in one place. We checked it out and discovered several interesting features, they are:
Overview

You can partition data to see just data from the Republic, from the North, or all-island statistics.

System Demand

In this tab from the Eirgrid dashboard, you will be able to see the national electricity production in real-time as well as its demand forecast. A great tool also to see the Nation's energy growth rates.

System Generation

This shows you exactly where the electricity used comes from. Whether it is from coal, gas, or renewable sources.

Imbalance Price/Volume

Very interesting tab to learn more about the current energy market pricing.

CO2 Emissions

Anyone with a keen interest in the environment will enjoy this section which shows how much carbon emissions are emitted daily.

Wind Generation

Another great feature of this Eirgrid dashboard is seeing how much wind energy is produced compared to its maximum capacity.

Eirgrid map

Is particularly interesting as you can have a close-up look at where the energy is produced, transformed, and distributed.
If you are in or interested in the energy sector, this smart grid dashboard is a great tool as it provides real, up-to-date information about electricity in Ireland.
We also think the renewable energy generation graphs and the CO2 emissions information are helpful to enable the general public to see how they struggle to meet our Paris Agreement targets.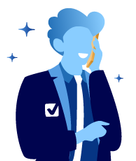 Want to help stop the climate crisis? Call us and switch to renewable energy.
Call one of our energy advisors to get a free quote today!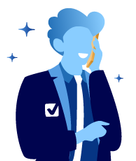 Save money on your energy bills with Selectra.
Selectra is currently closed. You can leave your phone number and get a free callback.
Eirgrid & Renewable Energy
Eirgrid's responsibilities include managing the power grid, the wholesale electricity market, and maintaining and developing the high voltage (transmission) electricity structure.
Finding ways to integrate renewable energy is currently a high priority. To help Ireland meet its 2030 renewable energy targets, the company is aiming to have the grid ready to carry 70% of Ireland's electricity from renewable sources. At present, only 36% of your power comes from clean generation, well short of the targets set by the Paris Agreement.
That said, there are also many successes regarding renewable energy so far, specifically:
The Irish energy grid can handle up to 65% renewable electricity at any time. A worldwide first back in 2018.
In April of 2022, the grid was able to handle up to 75% green electricity at one time.
The challenges integrating renewable resources according to the corporations 'Shaping our electricity future' technical report are:
Renewable energy supply tends to be "unreliable":
It does not produce the same amount of energy all the time (think of wind energy - it's not always windy….).
While we wait for the operator to solve these nationwide challenges, you can do your part by switching to a 100% renewable energy provider. In the table below, you can see how much of your supplier's electricity comes from renewable sources.
Percentages based on the latest CRU report from December 2020.
*The fuel mix from Bright Energy, Ecopower, Waterpower, and Community Power have yet to be verified by the CRU.
How Do I Check For a Power Outage In My Area?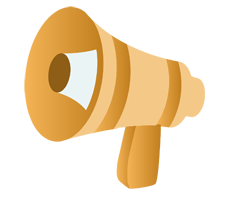 So, as the TNO for Ireland, Eirgrid must be the people to call when there is a power outage, right? Well, yes and no.
The operator DOES schedule planned outages for maintenance, updating electricity-generation facilities, adding and removing transmission lines, and resolving any other underlying issues. These outages are generally organized to cause the least disruption possible, although it's impossible to avoid altogether.
Customers in areas affected are always notified ahead of time. So for queries related to planned outages, yes, Eirgrid is the point of contact. You can visit the information on the planned outages webpage to see if your area is affected by one of these.
For unplanned power outages, it's generally not because of an issue with Eirgrid's transmission network and is much more likely that the fault lies with the distribution grid. The distribution network is managed by ESB Networks and you can look at the power check website to see if there is any information about outages in your area, or contact them directly.
Fallen Live WiresIf you see any fallen electricity wires, never touch or approach them as they are extremely dangerous. Please call emergency services straight away on 999, 112, or 1850 372 999.
How Do I Contact Eirgrid?
If after all of this, you would still like to get in touch with Eirgrid Ireland, you'll find all their contact details below.
Eirgrid Contact Information

| Contact method | Contact detail |
| --- | --- |
| Customer service | 01 677 1700 |
| Fax number | 01 661 5375 |
| Email address | [email protected] |
| Mailing address | Eirgrid, The Oval, 160 Shelbourne Road, Ballsbridge, Dublin 4, D04 FW28 |
Contact Eirgrid Via Social Media
Like most modern companies nowadays, you can also contact Eirgrid via online medium. The company has a contact form you can fill out on their website or you can also reach them via their social media contact details below.
Eirgrid FAQs
What is the Eirgrid Grid Code?
Eirgrid plc has a set of rules they need to follow, as does anyone involved in the electricity industry in Ireland, this is known as the Grid Code.
The Eirgrid Grid Code is always evolving and indicates the rules and guidelines which need to be followed for the maintenance, operation, and development of any electricity grid user.
Are there any Eirgrid Jobs?

If you are looking to work for the operator, there are regular Eirgrid jobs posted on indeed.ie and LinkedIn, which are the two main channels used. You can also keep an eye on their careers page where they post all their current vacancies.
Is Eirgrid a good company to work for?
On the website glassdoor.ie, Eirgrid receives a rating of 3 out of 5 stars as an employer.
Some of the positive comments left by employees are as follows:
Lovely people, nice to work and interesting work. Great people within the company.
Some of the negative reviews left are regarding that it is state-owned and has few middle management progression possibilities.
Most Eirgrid jobs are for engineers and business graduates, although there are some financial controller and administrative positions available as well. Jobs advertised are evenly split between contract, permanent, and temporary positions.
What is the history of Eirgrid plc?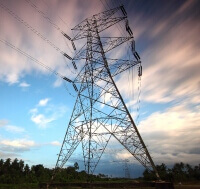 So, we know that we need electricity for just about everything in our day-to-day lives, but how did we get to this point? The beginnings of ESB Networks, Eirgrid, and the Irish electricity grid as we know it today, can be traced back to 1927.
After the successful Shannon Scheme (a hydroelectric dam) at Ardnacrusha, the ESB was formed to manage the electricity supply. At that time, incredibly, Ardnacrusha supplied 80% of Ireland's electricity, yet nowadays only accounts for 2% of the amount needed. Boosted by the success of Ardnacrusha, the government then built more hydropower plants, harnessing 75% of Ireland's inland water potential for electricity supply, by 1949.
Fun fact If you are curious to see where and how much power is generated by today's hydropower plants and other power plants, have a look at the snazzy Eirgrid Dashboard.
Towns and cities were well connected to the grid, but many smaller villages were out in the cold, so the government began the rural electrification scheme. The visionary scheme meant that ESB connected over 420,000 customers to the grid between 1946 and 1979.
By the early 2000s, great strides had been made in power generation and transmission. All areas of Ireland (apart from some small islands which still depend on generators) are now connected to the grid, several power stations have been constructed, and 60 wind farms are connected. Renewable energy technology is also being integrated all the time, following a €22 billion investment programme that began in 2008 and continues today.
It is into this developed system that Eirgrid began operations as the TNO for Ireland in 2006.