How Much Is Home Insurance in Ireland in 2023?

Home insurance is so important if you want to make sure you're protected against any possible damages or accident that might occur in the future. Home insurance in Ireland is really a must whether you're a homeowner, landlord or tenant so you should take the time to find the best policy for you. In our home insurance in Ireland guide, we'll walk you through how home insurance works and how to apply!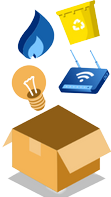 Moving house? Set up all your utilties at once!

Set up your energy, broadband and waste in one hassle-free call!

Ad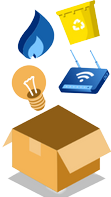 Sorry, we're closed right now!

We're currently closed but please leave us your number and we'll give you a free callback as soon as we'open!

Ad
What Is Home Insurance Ireland?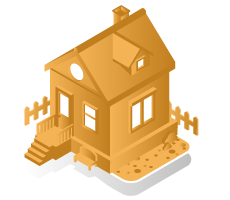 Home insurance is usually a single insurance policy that will cover you in the event of any type of damage that you might incur with your property. Since you never know what might happen in the future, having insurance gives you peace of mind that you won't have to fork out loads of money to pay for repairs and you can just put in your claim. Even you're renting, looking into home insurance is still good to know about!
Like other types of insurance, home insurance in Ireland gives you coverage that you pay for either monthly or annually. Home insurance is catered specifically towards damages to either the structure of a property - known as building insurance - and to your belongings inside the property - known as contents insurance. You can also get extra services if you need them.
How Does Home Insurance Work in Ireland?
If something happens to your property or your belongings, you can put in a home insurance claim so your insurance company either pays out the full amount or a percentage of the cost of repairs. In order for the insurance company to cover you, you'll need to provide evidence with your claim.
What is excess? Excess is the amount you have to pay towards repairs that are covered by your insurance. For instance, if you have a policy that covers you for a damaged item in your property and you have an excess of €70, you will pay the first 70€ for the repairs. The amount of excess you want will also affect the amount you'll pay for your home insurance. Typically, lower excess means a higher premium.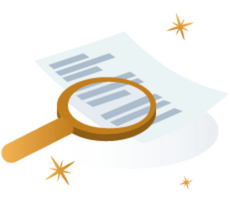 What Does Home Insurance in Ireland Cover?
Even with the housing crisis, home insurance will help cover you for more uncertainty. When you shop for home insurance in Ireland, you will generally be offered a single policy that will cover two main aspects: buildings insurance and contents insurance. There are also other elements that will be included in your policy as well such as all-risks cover and liability insurance.
What Is Buildings Insurance?
Buildings insurance will cover you for any damages caused to the structure of your property. This will include the roof, walls, windows and ceiling of the building as well as exterior parts of the property such as the garage. You will also have permanent fitting such as floors, kitchen and bathroom fittings covered. Your building insurance will cover you in the following situations:
Fires and explosions
Earthquakes
Storms
Flooding
Trees or branches falling
Burglary that causes damage to your property
Violence or vandalism
However, building insurance will generally not cover you if one of the following happens:
Damage caused by terrorism
Flooding in a area that's prone to it
Normal wear and tear
Gates and fences affected by storms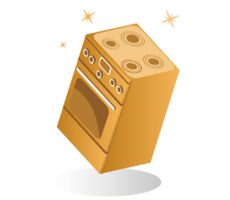 What's Contents Insurance?
Content insurance covers you for most of the movable objects in your property. This usually includes the furniture, appliances, fixtures and fittings that you have installed inside the property. It can also include some parts of the flooring although this is usually covered in building insurance. Cover insurance will cover you in the following situations:
Damaged or lost item
Accidental damage
Damage while moving house
Food gone off due to fridge/freezer fault
Cash stolen from a property
However, content insurance won't cover you under the following circumstances:
Money or items stolen if not properly secured
Car or other vehicle damage
Normal wear and tear
Damage incurred if you're away from your home for a long time
What is Liability Insurance and All-Risks Cover? Liability insurance and All-Risks Cover are parts that are usually included in your home insurance policy in Ireland. You should be careful when you take out a policy to make sure exactly what you're being covered for because it can be expensive if it turns out you're not covered.

Liability Insurance
This covers you if someone else has an accident or injury in your home. It will usually have you covered for legal bills and medical costs for the injured party. If you're a landlord, this an incredibly important part of landlord insurance too to protect you from a tenant having an accident.

All-Risks Cover
You should be careful to make sure your home insurance policy includes All-Risks Cover. It covers you for any damage or loss of your personal items inside or outside your property. Sometimes it is left out so you're offered a cheaper premium to pay but it is vital if you have jewellery or valuables in the property.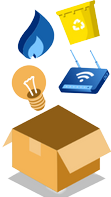 Moving house? Set up all your utilties at once!

Set up your energy, broadband and waste in one hassle-free call!

Ad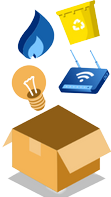 Sorry, we're closed right now!

We're currently closed but please leave us your number and we'll give you a free callback as soon as we'open!

Ad
How Much Does Home Insurance in Ireland Cost?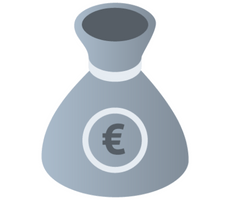 Your home insurance premium in Ireland will vary depending on the type of coverage you want and where you're living. Often, home insurance quotes will take into account everything about your property including its condition, location and its value and you should definitely look around to find the best insurance deal.
How Much Does Home Insurance Cost on Average?
There's no determined way of working out the average cost of home insurance in Ireland since it varies across the board. However, you can find home insurance policies from as little as €160 to as high as €700 depending on your house's needs and condition.
Home Insurance Ireland Comparison
Since home insurance vary not only from house to house but also from company to company, here's a table showing the expect insurance premium from a 2-bedroom house in Waterford City:
| Company | Quotations | Excess |
| --- | --- | --- |
| AIG Europe | €545.57 | €500 |
| Allianz | €284.80 | €250 |
| Aviva | €214.58 | €275 |
| AXA | €228.34 | €350 |
| FBD | €189.31 | €250 |
| Liberty Insurance | €233.69 | €250 |
| Insurance Ireland Ltd | €343.22 | €500 |
| Zurich | €184.03 | €250 |
Last updated: 05/09/2022
Source: Irish Houses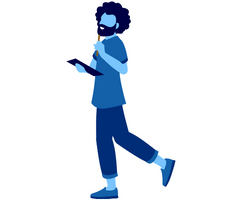 How Do I Apply for Home Insurance?
To apply for home insurance, the best way is to look for quotes online. All insurance companies will have a website where you can fill in your details in order to get a quote on how much you're likely to pay on your home insurance in Ireland. You should try and fill in your details as accurately as possible so you get a more exact quote.
The best way in order to get the cheaper rates with the best coverage is to shop around. You should take the time to research prices and see what each insurance company has to offer. If you shop around, you can usually save a lot of money.
What Affects My Home Insurance Premium?
Generally, everything about your home and life could affect the amount that you're offered as a premium for your home insurance. Since insurance is a financial product, insurers will charge you a premium based on the risk of damages occurring.
That being said, here's a list of circumstances that will affect your home insurance premium:
Property's Value
The amount that your property's worth will affect the amount you'll need to pay for your premium. If your property is worth more and has a higher rebuilding cost, then it's likely you'll need to pay more for your insurance premium. If you have multiple properties you will also pay more but you can usually get a deal which will make your premium lower per property.
Property's Condition
Your property's condition will also affect how much you'll pay for your home insurance premium. If it's a relatively new property the chances are you'll need to pay less since there will be less maintenance needed. On the other hand an older property might need more attention to damages and so may mean a higher premium.
Property's Location
Your property's location is very important when working out your premium. If your property is in an area prone to flooding or with high crime rates, you'll likely need to pay more for your home insurance. Also, if you're living in a city such as Dublin or Cork, you might have to pay more as well.
Credit History
Your credit history is also factored in when you apply for insurance. If you have a history of paying your bills and mortgage repayments on time, you'll likely have lower insurance premiums.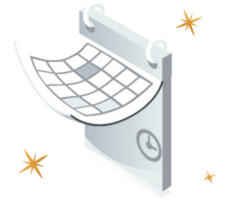 How Long Do Home Insurance Claims Take?
When you make a home insurance claim, depending on the insurance company you're with it can take up to two weeks to get your claim processed and the money for the damages paid out to you. However, make sure you do the following when you do make a claim to make the process as smooth as possible:
Be Quick
If you need to make a claim, make it as soon as possible. Most insurers will give you a time frame of 6 months to make a claim but it's best to do it as quickly as possible.


Take Photos
Your insurer will usually want evidence of the damage before they pay out so remember to take photos of whatever's been damaged so you can get your claim processed faster.


Keep Damaged Items
Try to keep your property or items in its damaged state as long as possible. Your insurer will need to assess the damage so they can pay out the right amount so it's best to make sure that the property is assessed accurately.
Remember to update your insurance details when you move! If you're moving house, as well as you checklists for all your belongings, packing everything up, and sorting out your moving boxes, remember to call up your insurance company and ask them to change your address details on your policy. This is very important so you don't get into any issues further down the line if you have a problem in your new home.

Check Out Our Change of Address Checklist!