Calor gas is the current number one supplier of LPG in Ireland. Calor gas arranges for gas commissioning, storage, cylinder filling, transport and delivery. They also carry out maintenance for LPG storage tanks. Read on to find out if this is the LPG provider for you.
---
Switching to Calor Gas LPG
Currently, in Ireland, many oil customers are considering switching to LPG because of environmental issues and rising costs. Another unfortunate issue with oil heating is that oil theft is quite common, where thieves tamper with the oil tank and drain it. In worst-case scenarios they directly drill a hole in the tank, meaning not only the oil supply is lost, but the tank must also be replaced.
What could make switching to Calor Gas even more attractive is that Calor Gas now also stock a 100% renewable Gas, known as Calor BioLPG.
LPG can also be an attractive heating option for those building a new home, which is far enough away from the grid to make connection financially untenable.
For any customers considering making the move, the first step is to contact Calor Gas, who will then send a consultant to your home to assess your energy needs and discuss payment options. A new efficient LPG boiler will then be installed, along with a gas storage tank, and you'll receive your first delivery of LPG.
Options that Calor Gas provide for LPG storage include:
Semi-mounded tanks (tanks buried under a small mound with a green cover)
Above-ground tanks
Large cylinders (47kg)
If you decide to make the switch to Calor, we recommend finding out if any of your family or friends are also with Calor. You can ask them to call 028 9045 5588 to recommend you, and both of you will receive €100 worth of LPG each for free.
---
My Calor Gas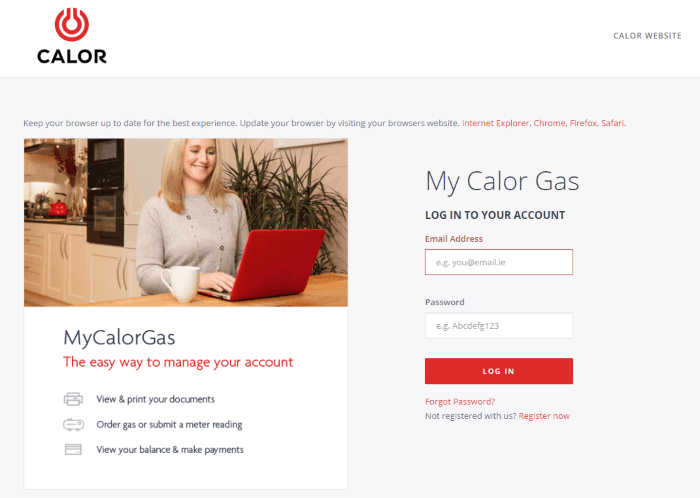 Calor gas provides an online login for their customers' convenience. With the My Calor Gas account, you can log in and perform any of the following operations:
Make payments
Order gas
Submit meter readings
View your balance
View and print documents such as invoices
To register for a My Calor Gas account, simply head to the register page and enter your:
Email address
Account number (you can find this on any Calor Gas bill or statement)
Address
Mobile number
Password
Then confirm whether you would like to subscribe to paperless billing or not and whether you'd like to receive notifications by text, email or both. Finally, tick the box indicating you agree to the terms and conditions and send your request.
To log in to your Calor Gas account simply head to the login page and enter your email address and password. If you've forgotten your password you can visit the password reset page and enter the email address you registered with, and you'll be sent a link to reset your password with.
If you should experience any issues trying to access your my Calor Gas account, make sure that you are attempting to view it through an accepted browser such as Internet Explorer, Chrome, Firefox or Safari.
---
Calor BioLPG
Calor BioLPG is an interesting option if considering switching to LPG. BioLPG is biological propane produced from waste stocks, renewable crops, and residues. While chemically identical to LPG propane, it's not only sourced from renewable materials and 100% renewable, it also produces much fewer carbon emissions. Emissions can be up to 80% less when compared with regular LPG.
As LPG is already considered a low-carbon fuel when compared with other fossil fuels, this makes BioLPG an even more attractive aspect. It can be used in exactly the same way as regular LPG, and by the same systems. So you won't need to change your tank or barbecue in order to use it.
Currently, the majority of BioLPG is produced by a facility in Rotterdam. If you'd like to find out more, check out our article on LPG and sustainable development.
Price list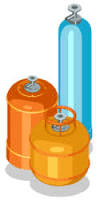 Calor Gas do not publish recommended retail prices for their gas bottles and retailers are free to add on extra margins as they see fit. After investigating online we discovered that Calor gas cylinders range from €18.50 for a 5kg cylinder to €100 for a 47kg cylinder.
As gas cylinder stockists can set their own prices, we do recommend shopping around and checking out prices from at least three stockists before settling on one. You may also wish to find out if stockists deliver, particularly for larger cylinders.
As with most LPG companies, you can also pick up Calor gas bottles at most hardware and DIY stores (such as Woodies). To find your closest Calor gas cylinder stockist, check out the Calor gas retailers map.
While stockists should be able to help you choose which size and type of cylinder you need, we recommend you consider the following before purchasing or refilling a cylinder and check your motivation. Do you wish to use your cylinder...:
At home?
In the garden?
Working outdoors?
For your business?
For camping/mobile homes etc.?
Butane is best for indoor purposes, and propane outdoors. Also consider whether the LPG will be used for heating, cooking or tumble-drying purposes. If you're still confused, Calor has an online service for helping you to choose a gas botte.
Reviews
Calor gas holds a high rating of 4.7/5 stars on Google and 4/5 on Trustpilot. Of the few reasons customers cited for being less than satisfied with Calor, most included delivery errors, which is only relevant to the Calor gas UK branch as Calor does not currently deliver in Ireland.
Customers reported being highly satisfied with Calor's polite and efficient customer service, and engineers who visited homes to service or examine LPG boilers and tanks.
"The engineer was very polit [sic] and professional a credit to the company. Thanks for your quick service"
Contact
Calor Gas has a range of communication methods available to their customers. You can call them, contact them online, or get a hold of them on social media.
Social Media
The services and products mentioned on this website may only represent a small selection of the options available to you. Selectra encourages you to carry out your own research and seek advice if necessary before making any decisions. We may receive commission from selected partner providers on sales of some products and/or services mentioned within this website. Our website is free to use, and the commission we receive does not affect our opinion or the information we provide.