How to Change a Gas Cylinder, Quickly and Easily?

It sounds simple enough, but if you've never done it before it can end up being a little frustrating and complicated. How do you connect up a gas cylinder to a barbecue or heater? We've investigated to tell you how so you can change one like a pro.
---
Note that valve connections do differ by country. This is important to keep in mind if you live close to the border, as UK connections differ from Irish regulator connections.
---
Types of connections
First of all, before attempting to change your bottle connection, you'll need to see what type of gas regulator the bottle is fitted with. When you first purchase your gas cylinder, whether from a hardware store or a gas supplier company directly, you should be informed what type of regulator it uses.
Irish gas regulators are usually a standard type called "clip-on" regulators that come with spring-loaded collars.
---
Verify your cylinder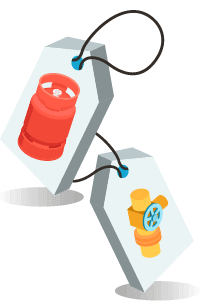 You should always buy your gas cylinders from an approved supplier only. "Rogue" cylinders that may have been refilled by "Pirate fillers" do not carry the same safety checks, regulations, and guarantees as cylinders that have been checked and filled by the correct company. They could pose a potential threat if used or stored.
Before attempting to connect a new full gas cylinder, you should check it for damage and make sure the safety seal is unbroken. Once you have removed the safety seal, pay close attention to the valve and the rubber seal, making sure that both are in good condition and that there is no debris blocking the valve.
The tubing connected to the regulator should have a jubilee clip and be free from damage. If the tubing is showing any wear or tear and/or is over 5 years old, you should replace it. You can tell how old the tubing is by checking the date which should be printed on it.
---
Connection
Changing out a bottle when the regulator uses a clip-on connection, is a quick & easy process.
Break and remove the safety seal from the cylinder.
Remove the cap covering the gas cylinder connection point, also known as a "dust cap".
Pick up the regulator, switch the regulator switch to the off position, and lift up the locking collar.
Place the regulator on the gas bottle connection point and push down.
Release the locking collar.
Gently tug on the regulator to make sure that is attached properly before flipping the regulator switch to the on position. You can now use whichever appliance is connected to your LPG gas bottle.
---
Disconnecting the regulator from a gas bottle
To remove the regulator, simply:
Turn the regulator switch to the off position.
Lift up on the locking valve/retaining ring while maintaining downward pressure on the top side of the regulator with the palms of your hands (effectively squeezing together both ends of the regulator).
Lift the cap off.
Replace the dust cap in order to prevent dust and debris entering the connection valve.
---
Problems with connecting your gas bottle
If you're having any issues connecting or disconnecting your gas bottle, we recommend you contact your LPG supplier as soon as possible. In Ireland this usually means Calor Gas or Flogas, although there are also smaller vetted suppliers such as Tergas.