Flogas LPG is the second biggest LPG supplier in Ireland, and also have a strong presence in the LPG market in the UK. LPG is a popular alternative to connecting up to the gas grid in Ireland, where distance and terrain can sometimes make connection unfeasible or prohibitively expensive.
LPG gas can be used for heating your home, cooking, camping, tumble-drying, and barbecues. It also costs a lot less money to switch from oil to LPG, rather than switching from oil and needing to get a connection to the gas mains. Switching your home from running on oil to running on gas can take from just 1 - 2 days.
Indeed some items which can be run on LPG, such as gas tumble dryers which have risen in popularity over the last few years, are much cheaper to run than their electrical counterparts. But what are the benefits of switching to Flogas for your LPG needs?
---
My Account LPG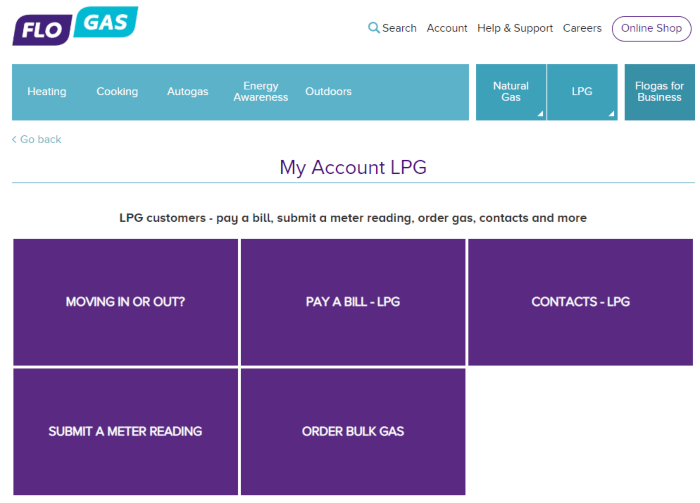 Well, first of all, Flogas have arranged a handy online login for their LPG customers. Normally online niceties are in short supply for LPG customers as suppliers in Ireland tend to focus their efforts on mainline gas customers (Flogas also offer piped natural gas).
To login online and manage your LPG account, you'll need to head to Flogas' My Account LPG page. Flogas provide extensive options for LPG, and among their sections, you'll find:
Moving in or out
Pay your bill
LPG contacts
Submit meter readings
Order bulk gas
It seems that Flogas has already anticipated many of its customers' needs such as what to do when moving in to or out of a property that has LPG, important Flogas LPG contacts etc.
---
Autogas
Flogas Natural Gas also provide LPG fuel for your car! Sold under the name of Autogas, LPG has the advantage of being up to 50% cheaper than petrol and diesel, less polluting (reduces carbon dioxide emissions by 15% when compared to petrol), and it's reasonably quick and easy to convert your car to it (about 2-3 days on average).
They have a handy savings calculator to show how much you can save by converting your car to autogas.
You can buy autogas vehicles new, or convert your existing car by fitting the autogas tank in the wheel well, making it a dual fuel car. Then you can simply flick a switch to choose which fuel you want the car to use. If you're interested in using Autogas in your car, contact a conversion centre to get a quote, prices start from roughly €1000.
As of September 2018, average petrol prices were 148.9c and diesel 135.9c (check out www.pumps.ie for more updated information on pricing), and LPG was averaging out at about 0.76c. Depending on your fuel usage, how old your car is, and how long you want to hang on to it, a conversion could really save you quite a bit of money further on down the road, as well as being a more environmentally-friendly option. There are also a large number of petrol stations which provide LPG filling facilities.
---
Rates & Tariffs
So you've decided to switch to Flogas for your LPG needs, but how much will it cost you?
If you need LPG, Flogas has got your covered with three options for you to consider, depending on your personal situation and household needs:
Bulk gas - stored in tanks which need to be refilled by gas tankers.
Butane cylinders - gas in small cylinders for use indoors.
Propane cylinders - gas in larger but still somewhat portable cylinders for outdoors use.
Flogas bulk tank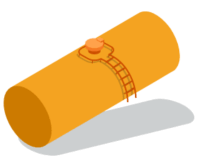 If you're building a house, want to switch from oil to LPG, or are just too far from the gas pipeline, Flogas will install a Flogas bulk tank and give you 1200 litres of LPG free.
Having your own gas tank is a handy solution for those cases where connection to the main gas framework may be impossible or cost-prohibitive. Flogas can arrange for either above ground or underground tanks and will install and deliver a half-ton tank for €230.
However, you'll need to contact an RGI installer beforehand to have your property surveyed and the space for the tank dug if an underground one is desired. The rental fee on the tank is then €105 per year. If you already have a tank on your property, it's completely free to switch.
Flogas recommends their automatic LPG bulk top-up service, although you can also place your orders yourself - keeping in mind that in high-demand periods it can take up to 28 days for deliveries. To find out more about installing a tank or filling options, you can call Flogas on their LPG phone number.
Gas cylinders or bottles
Butane cylinders are usually used when either installing a tank isn't feasible, or only a small amount of gas is needed (for a cooker, for example). They are sold under the Flogas and Ergas brands.
For more information on where to buy cylinders, you can contact customer services. Recommended retail prices for cylinders range from €21.90 for a 15.5lb butane cylinder, to €129.45 for a 104lb propane cylinder.
More pricing information can be found at Flogas LPG bottle webpage. However as these are only recommended prices and retailers can set their own price, we'd recommend you shop around to get the best deal. Flogas will also accept competitor's cylinders when they are exchanging empty cylinders for new ones.
---
Reviews
The majority of Flogas' customers are satisfied, but as with any energy provider, there have been a few issues reported.
LPG customers didn't like the wait between receiving their tanks and having them filled - LPG tanks have to be transported empty, for safety considerations, but customers considered a one-week delay in filling to be too long.
This is worth bearing in mind in case you use LPG for your home or car since it means you will need to plan ahead a little more than with a regular gas connection.
Customers were very happy with the fact that there is no extra fee for using the budget plan, which allows you to spread out your LPG payments in order to combat the rise in LPG costs during the winter months. They also spoke highly of Flogas' customer service and the ease of switching.
---
Contact
Flogas have a dedicated line for anything and everything LPG, 041 983 1041, as well as a section of the account login "My LPG Account" dedicated to contact in the event of an issue with your LPG or a request for information.
If you experience any issues getting through, or would just prefer not to phone, you can send an email to the general email address [email protected].
For any other queries or issues, check out our in-depth Flogas contact section.
The services and products mentioned on this website may only represent a small selection of the options available to you. Selectra encourages you to carry out your own research and seek advice if necessary before making any decisions. We may receive commission from selected partner providers on sales of some products and/or services mentioned within this website. Our website is free to use, and the commission we receive does not affect our opinion or the information we provide.